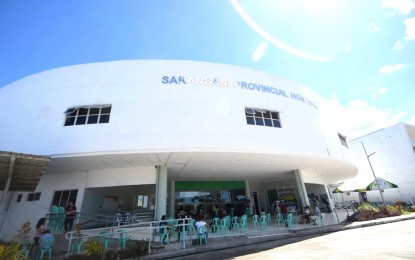 GENERAL SANTOS CITY –The Department of Health (DOH) has finally approved the accreditation of the Sarangani Provincial Hospital (SPH) as a Level 1 facility.
Dr. Aileen Brion, the SPH chief, said on Friday they received a license-to-operate from the DOH-Region 12, through the Regulations, Licensing and Enforcement Division, that upgraded the hospital's classification effective last Nov. 5.
She said the release of the accreditation allowed them to start this week surgical operations at their upgraded operating room.
"We can now operate on emergency and elective cases," Brion said in a statement.
She said among the successful surgeries involved a patient who had a ruptured ectopic pregnancy.
The hospital may now accommodate patients who need to undergo appendectomy, herniorrhaphy, and cesarean delivery, she said.
Brion said the hospital has facilities for high-risk pneumonia cases and they can conduct blood transfusion and X-ray examination.
Among the upcoming medical services are ultrasound and 2D echocardiography for those with coronary or heart-related problems.
The official said patients registered with the Philippine Health Insurance Corp., especially the indigents, may avail of the "no balance billing" scheme at the hospital.
She said Sarangani Gov. Steve Chiongbian Solon issued a directive that patients treated at the facility will not be financially burdened.
Brion said they will continue to upgrade and expand the hospital's services, which is eyed to become a Level 2 facility next year.
Based on the DOH's classification standards, a Level 2 hospital should have completed the basic requirements for a secondary level facility; departmentalized clinical services; and, operational units for respiratory, general intensive care, high-risk pregnancy, neonatal intensive care, tertiary clinical laboratory, blood station, and a second level X-ray with a mobile unit.
"In terms of equipment and infrastructure components, (SPH) may already seek Level 2 accreditation," she said.
Last month, SPH received some PHP25 million worth of equipment from DOH-Region 12 to further upgrade its existing facilities. (PNA)
Source: Business Diary Philippines