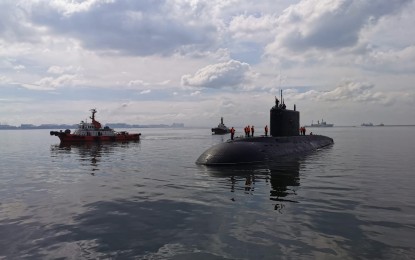 MANILA – A naval squadron, consisting of five ships of the Russian Pacific Fleet, is docked at the Manila South Harbor for a port visit.
"The Russian Navy contingent is composed of corvette Gremyashchiy, two submarines, tanker Pechenga, and support vessel Alatau," Philippine Navy (PN) spokesperson Commander Benjo Negranza said in a statement Tuesday night.
A corvette is a small warship for anti-submarine and escort missions.
The ships arrived on November 16.
No details are available on how long the squadron would stay but the Navy said the visit was intended for routine port replenishment and rest for the crew.
"The arrival of the Russian contingent in the country and the accommodation and support being extended to them underscores the promotion of peace, stability, and maritime cooperation in the region," Negranza said.
In October 2018, the BRP Tarlac (LD-601) and its 300-man contingent made the Philippine Navy's first-ever port visit to Vladivostok, Russia.
The visit lasted six days and the Navy contingent got a chance to visit and tour a Kilo-class diesel-electric submarine aside from inspecting a Russian Marine firing range. (PNA)
Source: Business Diary Philippines