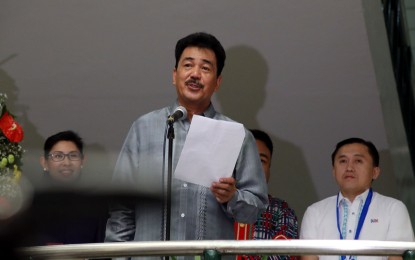 MANILA – Commission on Higher Education (CHED) Chair J. Prospero de Vera III said the University of the Philippines-Diliman officials should respect how other higher education institutions (HEIs) run their campuses amid the decision to remove books and reading materials donated by communist-terrorist groups (CTG) in their libraries.
In a statement Tuesday, de Vera said such action is a practice of academic freedom.
The UP Diliman Office of the Chancellor, in a statement released last Oct. 30, condemned the removal of CTG-donated books and materials from some state universities, saying the move contradicts the mission of universities to teach and research freely.
The HEIs are reminded to respect the decisions of other HEIs "in the spirit of mutual respect and proper governance of their institutions."
"I know that there are many HEIs who are critical of the policies adopted by the UP Diliman officials and the way they run their campus but they are not issuing statements out of mutual respect for the governance of individual public universities," he said. "I urge UP Diliman officials to do the same."
Several HEIs nationwide such as the Kalinga State University, Isabela State University and Aklan State University pulled out from their libraries reading materials and turned them over to the regional National Task Force to End Local Communist Armed Conflict (NTF-ELCAC) and the National Intelligence Coordinating Agency.
"School authorities in these HEIs are in the best position to explain why. They are given sufficient administrative discretions under existing laws," de Vera said.
Earlier, UP Visayas Chancellor Dr. Clement Camposano received the members of the NTF-ELCAC and gave them a tour of the campus. He also received reading materials and copies of a coffee table book of the Indigenous Peoples published by the National Commission for Indigenous Peoples from the multi-agency task force.
"I am not giving up any of our books, but would gladly receive materials from a wide diversity of sources. We are a university and all ideas and perspectives are welcome," Camposano said in a Facebook post.
"It would be best for the Chancellor of UP Diliman and their officials to be more prudent, circumspect, respectful, and discerning in issuing statements, especially involving the academic freedom of other higher education institutions," de Vera said. (PNA)
Source: Business Diary Philippines