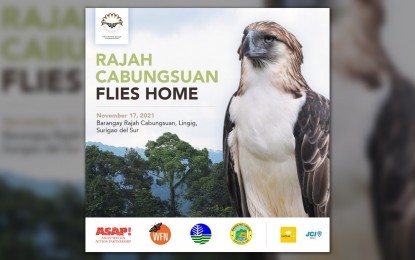 BUTUAN CITY – The Department of Environment and Natural Resources (DENR) 13 (Caraga) announced the scheduled release of a Philippine Eagle (Pithecophaga jefferyi) that was rescued earlier this year in Surigao del Sur.
In a statement on Thursday, the DENR-13 said the rescued Philippine Eagle will be released back into the wild on November 17.
"Rajah Cabungsuan is a male eagle over five years old. He is named after a barangay in Lingig, Surigao del Sur where he was rescued last March 23," it said.
The eagle, it added, was handed over by the Bislig local environment office to the DENR-13 after the rescue for treatment.
"After over seven months at the Philippine Eagle Center in Davao City, he is healthy and fit and ready to be brought back to his forest home in Lingig," the DENR-13 said.
It also thanked the different support groups that provided help during the treatment of the rescued Philippine Eagle.
The DENR earlier urged the public to seek assistance from the police and military in rescuing Philippine Eagles and in arresting individuals who violate laws that protect the endangered bird.
Hunting Philippine Eagles is a violation of Republic Act 9147 or the Wildlife Resources Conservation and Protection Act.
The International Union for Conservation of Nature (IUCN) has listed the Philippine Eagle as being critically endangered.
According to IUCN's assessment, there is a decreasing trend in the Philippine Eagle's population, noting this species had only around 180 to 500 remaining mature individuals.
Agriculture and aquaculture, energy production and mining, pollution, as well as climate change, and severe weather threaten Philippine Eagle's existence, noted IUCN.
Biological resource use through logging, wood harvesting, hunting, and trapping is also a threat, IUCN said.
Non-profit organization Philippine Eagle Foundation reported that of the 89 eagles it rescued since the 1970s, around 26 percent had gunshot wounds while the rest were victims of trapping and poaching. (PNA)
Source: Business Diary Philippines