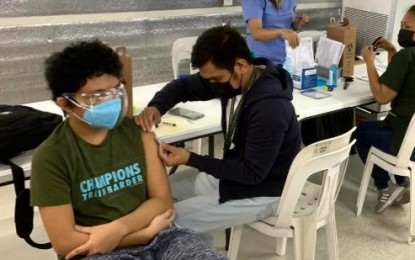 MANILA – President Rodrigo Duterte has ordered the Department of the Interior and Local Government (DILG) to sanction local government units (LGUs) and local chief executives performing poorly in relation to their respective coronavirus disease 2019 (Covid-19) vaccination program.
This, after he noted that there were "fault lines" in the government's Covid-19 vaccination rollout, particularly in the deployment of jabs at the regional and provincial levels.
"Di ko malaman kung saan talaga nagkakamali, kung may mali. Bakit mahina ang paglabas ng bakuna? Dito sa national, medyo okay. Ang problema, pagdating doon sa provincial, regional level, doon nagkakaroon ng medyo problema (I can't pinpoint what we're doing wrong if there really is something wrong. Why is the vaccination rollout slow? At the national level, it's okay. The problem is in the provincial and regional level)," he said in a pre-recorded public address aired Wednesday morning.
Duterte said he was "not contented" with the current Covid-19 vaccination rollout, noting that the goal is to reach the target of one million jabs or more per day.
He ordered National Task Force against Covid-19 chief implementer and vaccine czar, Secretary Carlito Galvez Jr., the Armed Forces of the Philippines (AFP), and the Philippine National Police (PNP) to provide all the necessary support to our LGUs particularly in the delivery of vaccines and mobilization of resources.
He also directed Interior Secretary Eduardo Año to ensure that all LGUs and local chief executives are held accountable for their failure to ensure a successful vaccination program.
"I have also ordered Secretary Año to impose the necessary sanction against LGUs and local chief executives who are not performing nor using the doses given to them in the most expeditious manner," he added.
Duterte expressed hope that the LGUs and local chief executives would "take time really to attend to this problem of delay."
Meanwhile, Duterte directed authorities to ensure that there is a sufficient number of healthcare workers assigned to administer jabs at vaccination sites.
"Ang dapat lang pagdating doon talagang nandoon na yung mga tao (When the vaccines arrive, the people should be there), the human resource side would be ready to do the injections," he added.
Last month, Galvez said the Philippines surpassed its target of 25 million fully vaccinated individuals with a total of 27,360,873 completed jabs.
The country also achieved the highest jabs per day, with 724,294 jabs and the highest jabs per week with 3.7 million jabs. (PNA)
Source: Business Diary Philippines