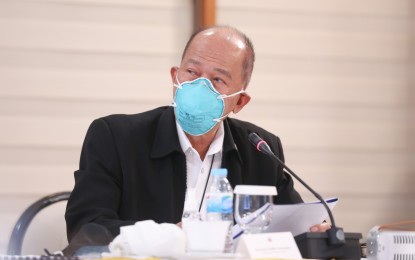 MANILA – Department of National Defense (DND) Secretary Delfin Lorenzana dismissed claims made by a retired Army officer that Senator Christopher "Bong" Go was controlling the decisions made by President Rodrigo Duterte.
In a statement Monday, Lorenzana labeled as "baseless" former Army officer and NTF-ELCAC spokesperson Lt. Gen. Antonio Parlade Jr.'s statement, saying Duterte "has always been his own man."
"The President stands by his own decisions, has always been firm in his directives to us, who are working for him, and is not as easily swayed or influenced by others as purported by the general," Lorenzana said.
Parlade was among the last-minute filers last November 15 for president, running under the Katipunan ng Demokratikong Pilipino party.
Shortly after filing his candidacy, Parlade took a swipe at his fellow presidentiable Go by saying, "I'm sorry but isa siya, kasama siya sa problema ng bayan natin (He is among those included in our nation's problems)."
He said he decided against aligning with Go because he did not like the way the senator does things.
In defense of Go, Lorenzana said the senator, even during his stint as special assistant to Duterte, helped the department in ensuring the doubling of the salaries of the uniformed personnel as well as supported the modernization efforts.
"He has always been our main bridge to the President and I have not known any instance when SBG (Senator Bong Go) acted outside the wishes and decisions of the President," he added.
Lorenzana also maintained that the Armed Forces of the Philippines remains a professional organization that continues to work in the interest of the Filipino people, regardless of the prevailing political landscape.
"There is no truth to the allegations that there is brewing trouble or discontent in the AFP," Lorenzana said. (PNA)
Source: Business Diary Philippines