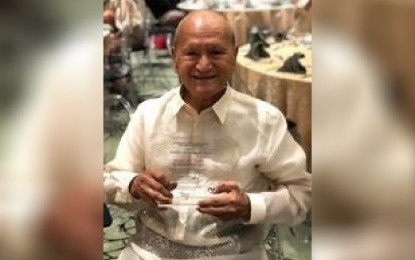 MANILA – Joaquin "Jake" T. Espino, former managing editor of the state-run Philippine News Agency (PNA), died of hospital-acquired pneumonia on Friday evening, his family said. He was 85.
Born in Mexico, Pampanga on May 28, 1936, Jake, as he was fondly called by colleagues, studied at the Pampanga High School before taking up AB Journalism at the Far Eastern University (FEU) in Manila.
After graduation, he joined the old Manila Chronicle as a reporter, covering the police and other beats until the advent of martial law in September 1972.
In 1973, he became one of the staff members of the Philippine Archipelago, a publication of the newly-organized Bureau of National and Foreign Information under the Department of Public Information.
He transferred later to PNA where he covered for several years the departments of agriculture, environment, and agrarian reform, as well as the Philippine Coconut Authority and other government offices around the Quezon Memorial Circle, including the Quezon City Hall.
After the government reorganization following the 1986 People Power Revolution, he was promoted to news editor while continuing to cover some of his old beats.
He retired as PNA managing editor in May 2001.
He is survived by his wife, Ulpiana, and daughters Maria Teresa and Maria Cristina Espino, among other close relatives.
One of his daughters said her father's remains could be viewed at the Funeraria Paz along G. Araneta Ave. in Quezon City beginning Saturday night.
Jake was a lifetime member of the National Press Club of the Philippines, the Samahang Plaridel, and the Capampangan in Media, Inc. (PNA)
Source: Business Diary Philippines