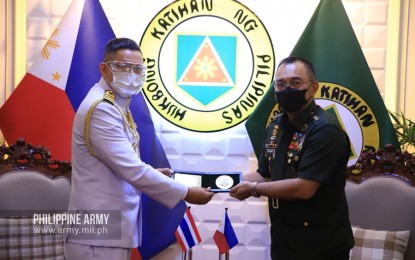 MANILA – The Philippine Army (PA) has expressed its commitment to the continued enhancement of its capability development program with the Thai military.
PA commander Lt. Gen. Andres Centino Jr. gave this assurance during the introductory call of Thailand's new naval attaché, Capt. Pakpoom Muensri to him at the Army headquarters in Fort Bonifacio, Taguig City on Thursday.
Muensri was accompanied by Group Capt. Soonthorn Pongampai, Thailand's defense and air attaché to the Philippines, during his visit.
"The CGPA (Commanding General Philippine Army) assured both officers of the PA's strong desire to sustain military cooperation and enhance capability development programs with the Thailand Army. Lt. Gen. Centino also highlighted the upcoming renewal of the Terms of Reference as a testament to the PA's genuine commitment to strengthen its relationship with the Royal Thai Army," Army spokesperson Col. Xerxes Trinidad said in a statement Thursday night.
Centino also thanked Bangkok for its support to the PA through the years.
"We look forward to our future activities and engagements that will further strengthen our military relations," he added.
Meanwhile, Muensri thanked Centino's time and warm accommodation as he pledged to foster the military relations of both countries. (PNA)
Source: Business Diary Philippines