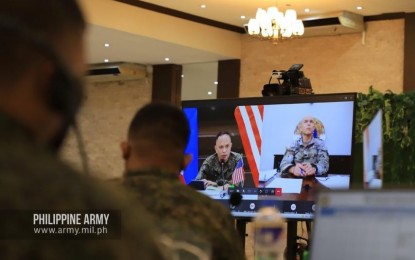 MANILA – The Philippine Army (PA) is looking to more training activities with the United States Army Pacific (USARPAC) as part of efforts to enhance its capabilities.
"The PA is looking forward to more activities and training for both Armies in the future. As we continue to foster good relations with our counterparts from the USARPAC, we also expand our capabilities and lead our country towards true peace and development," Armed Forces of the Philippines (AFP) chief-of-staff and concurrent PA commander, Lt. Gen. Andres Centino said in a statement Thursday night.
He also expressed his appreciation to the USARPAC and PA joint efforts in strengthening the military relations between the two countries.
From Wednesday to Thursday, the PA and the USARPAC alternately hosted the 10th Steering Committee Meeting (SCM) at the PA headquarters in Fort Bonifacio, Taguig City.
The virtual SCM is a planning activity in preparation for the 10th Executive Steering Group Meeting between the PA commanding general and his counterpart at USARPAC.
The meeting also aimed to review activities for calendar years 2021 and 2022, and to deliberate and finalize bilateral activities and training for the year 2023.
USARPAC's Col. Thomas Scott and PA assistant chief-of-staff for plans, Col. Rommel Cordova led the two-day activity. (PNA)
Source: Business Diary Philippines