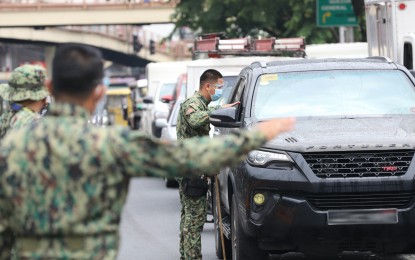 MANILA – The Philippine National Police (PNP) has logged only seven new cases of the coronavirus disease 2019 (Covid-19) among its personnel.
In its Covid-19 cases update released Wednesday, PNP data showed 37 new recoveries for a total of 41,862 since the start of the pandemic.
Deaths remained at 125, while active cases stand at 137.
Cases nationwide are on a downward trend with only 849 new Covid-19 cases, the lowest single-day case count for 2021, logged on November 16.
More Filipinos are protected against the disease. As of November 15, the total number of vaccine doses administered has reached 70,677,771. Fully protected Filipinos are now at 31,868,120.
With its goal of vaccinating 70 percent or 77 million of the Philippines' total population, the national government is on track to fully inoculate half of this number and administer at least one shot to 54 million Filipinos by the end of the month.
For police personnel, 92.25 percent or 208,238 have been fully vaccinated while those partially vaccinated are at 6.58 percent or about 14,854.
Only 1.17 percent or 2,636 personnel have yet to receive the vaccine. (PNA)
Source: Business Diary Philippines