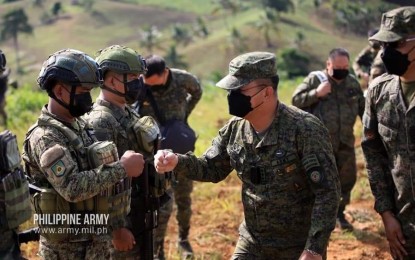 MANILA – Philippine Army (PA) commander Lt. Gen. Andres Centino said the National Task Force to End Local Communist Armed Conflict (NTF-ELCAC) has allowed troops to focus more on combat missions and security operations.
"The NTF-ELCAC, which relies on the comprehensive whole-of-nation approach in solving the insurgency problem, allowed our troops to focus on combat missions and security operations," Centino said in a statement posted at the PA's Facebook page on Thursday.
Communist insurgents suffered a massive blow with the death of top New People's Army (NPA) commander Jorge "Ka Oris" Madlos. He died in an encounter in the hinterlands of Impasug-ong, Bukidnon last October 30.
Madlos is also the commander of the NPA's National Operations Command, directing the operations of the communist terrorists nationwide.
Another accomplishment is the capture of 35-year-old rebel leader Ramil Banawan, secretary of the Guerilla Front Malayag, Sub-Regional Command 2 of the North Central Mindanao Regional Committee during an operation in San Fernando, Bukidnon last October 25.
Executive Order 70 institutionalized in 2018 the whole-of-nation approach and established the NTF-ELCAC as means to attaining inclusive and sustainable peace.
Centino also credited the NTF-ELCAC for the series of decisive gains against communist and terrorist elements.
"Be assured of the continuing service of the Philippine Army to the people," he added.
Centino is also optimistic that the military can comply with President Rodrigo R. Duterte's order to end the insurgency problem by 2022.
"We are on track with what the President has mandated us to do," the Army chief said.
"We are capable of doing this. Everything is in place. We have the support of the people, which is the most important. We also have the full support of the administration," he added. (PNA)
Source: Business Diary Philippines