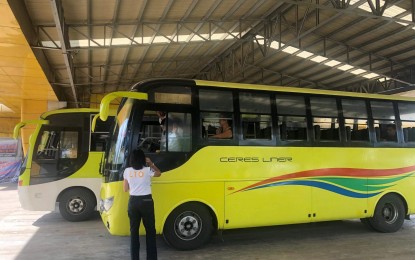 DUMAGUETE CITY – Following the downgrading of Negros Oriental to Alert Level 2 status, bus trips to Negros Occidental are now allowed while weekend flights to and from the Dumaguete-Sibulan airport are seen to resume soon.
Gov. Roel Degamo on Tuesday signed Executive Order No. 44 adopting the guidelines of the national Inter-Agency Task Force for the Management of Emerging Infectious Diseases (IATF-EID) for areas in the country now placed under Alert Level 2.
Negros Oriental shifted from Alert Level 4 from November 1-14 to Alert Level 2 from November 15-30, as approved by the IATF-EID, based on the decline in the number of coronavirus disease 2019 (Covid-19) cases.
Capitol spokesperson Bimbo Miraflor, in an interview, said the Ceres bus trips of the Vallacar Transit, Inc. may now ply the Dumaguete to Bacolod City, Negros Occidental route, provided travelers comply with the requirements of both Negros provinces.
The Ceres bus trips to the other side of the island will be allowed exit and entry only via Mabinay, Negros Oriental and San Carlos City, Negros Occidental, he said.
The cross-border trips on Negros Island were temporarily suspended as both provinces had high cases of Covid-19 in the past weeks but a drop in infections is now being reported, he added.
Meanwhile, weekend commercial flights at the Dumaguete-Sibulan airport may resume soon after a long hiatus of limited daily schedules in the past year and a half due to the pandemic.
Miraflor said the provincial IATF, headed by the governor, in a meeting on Monday, already allowed weekend air travels to and from Negros Oriental, following the downgrading of the alert level status and the easing of border control and travel requirements.
Philippine Airlines and Cebu Pacific, the two major airlines plying the Dumaguete route, have long been requesting the governor to allow weekend flights to Negros Oriental, he said.
Another salient point in the new guidelines is the increased seating capacity at food establishments of 50 percent for dine-in and 70 percent for al fresco.
The wearing of face shields will be discretionary on the part of the establishment even as the national government has announced scrapping it for areas under Alert Levels 1, 2, and 3, Miraflor said.
The provincial IATF will still be meeting to finalize other arrangements for border control and security following the downgrading of the alert level status in Negros Oriental. (PNA)
Source: Business Diary Philippines