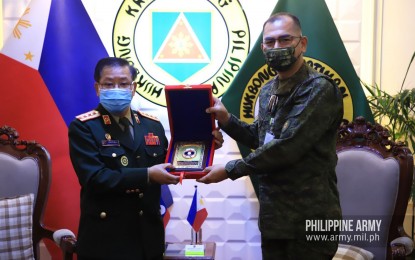 MANILA – The first resident defense attaché of Laos to the Philippines made an introductory call to the Philippine Army (PA) on Wednesday.
Maj. Gen. Roberto Capulong, chief-of-staff of the Philippine Army (CSPA), formally received Col. Khamkhong Inthilath at the PA headquarters in Fort Bonifacio, Taguig City.
Capulong conveyed to Khamkhong the intention of the PA to enhance its security cooperation and partnership with the Lao People's Army (LPA).
"We in the Philippine Army are looking forward to our future activities and engagements with the Lao People's Army. We will achieve a stronger partnership on defense cooperation through our future endeavors that will benefit our people," Capulong said in a statement on Thursday.
The two military officials also discussed the coronavirus disease 2019 (Covid-19) response operations of both armies in their respective countries.
During the discussion, Khamkhong expressed his admiration for the PA's contribution in addressing the Covid-19 situation in the country.
Khamkhong also expressed his gratitude to the CSPA for the warm accommodation and affirmed his strong commitment to fostering a closer military relationship between the PA and LPA.
The meeting ended with both of them mutually expressing their strong commitment to exploring opportunities that will strengthen the bilateral relations of the Philippines and Laos.
Aside from the Philippines, Laos is also a member state of the Association of Southeast Asian Nations (Asean) together with Brunei Darussalam, Cambodia, Indonesia, Malaysia, Myanmar, Singapore, Thailand, and Vietnam. (PNA)
Source: Business Diary Philippines