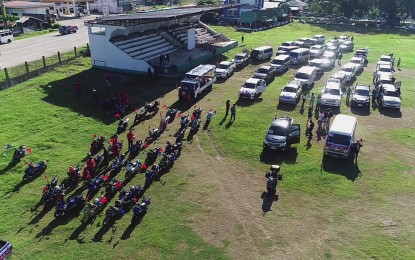 CAGAYAN DE ORO CITY–Local leaders and residents in the province of Lanao del Norte have signified their support for the vice-presidential bid of Sen. Christopher Lawrence Go by joining a nationwide caravan Saturday.
A PDP-Laban (Partido Demokratiko Pilipino–Lakas ng Bayan) Lanao del Norte Facebook page post showed supporters were able to gather about 100 vehicles for the caravan within the province that traveled from the town of Sultan Naga Dimaporo to the Municipality of Linamon.
The post quoted Nunungan Mayor Marcos Mamay expressing support for the candidacy of Go, as he believes that the latter can continue the programs of President Rodrigo Duterte.
"We, the Team Quibranza-Dimaporo, give our full support to Senator Bong Go's bid for the vice presidency. We've seen him in action, his programs that greatly helped the Filipino people, especially Nunungan, and we want him to continue the legacy of President Rodrigo Roa Duterte," he said.
All mayors under the ruling party also joined the gathering but ensured that all the standard health protocols were observed.
Gov. Imelda Dimaporo was represented by her daughters, Sittie Aminah Quibranza-Dimaporo, candidate as 2nd District Representative, and her sister, former congresswoman Fatima Aliah Quibranza Dimaporo. (PNA)
Source: Business Diary Philippines