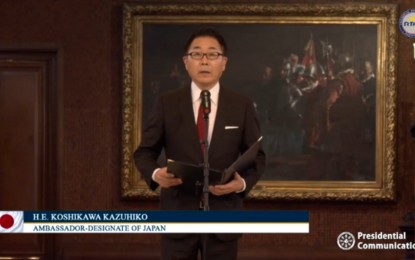 MANILA – The Japanese Embassy in Manila said Saturday it "strongly opposes" any unilateral attempts to change the status quo in the East and South China Seas (SCS).
The statement came days after Chinese Coast Guard vessels blocked and fired a water cannon on two Filipino boats en route to the Ayungin Shoal.
"Japan strongly opposes any unilateral attempts to change the status quo in the East & South China Seas," Japanese Ambassador to the Philippines Kazuhiko Koshikawa said in a tweet. "Compliance with the 2016 Arbitral Award and the principle of peaceful settlement of disputes based on international law, UNCLOS (United Nations Convention on the Law of the Sea), are vital for peace and prosperity for the region."
Under the arbitral ruling, the Ayungin or Second Thomas Shoal had been classified as part of the Philippines' 200-nautical-mile exclusive economic zone and continental shelf.
It declared that the feature is not "overlapped by any possible entitlement of China."
The recent Ayungin incident happened on November 16, drawing outrage from the Philippine government.
READ: PH outraged after Chinese vessels blocked PH supply boats
On Friday, the US government expressed solidarity with Manila, saying the Chinese action "directly threatens regional peace and stability."
United Kingdom Minister of State for Asia Amanda Milling on Saturday also expressed her concern over "recent incidents" that have raised tensions in the region but did not directly refer to the Chinese Coast Guard actions in Ayungin.
"Pleased to reaffirm the importance the UK attaches to UNCLOS and a stable, prosperous South China Sea at the 13th Hanoi SCS Conference this week. I am concerned by recent incidents that have raised tensions and urge against actions that hinder the peaceful settlement of disputes," she said. (PNA)
Source: Business Diary Philippines