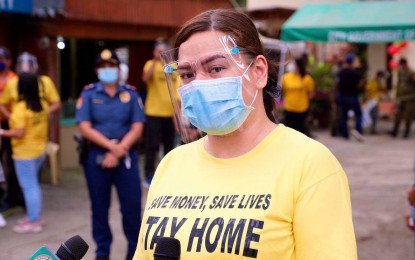 DAVAO CITY – Mayor Sara Z. Duterte has appealed on Tuesday night to her supporters to cancel their planned Cotabato to Manila caravan from November 4 to 15.
"I am respectfully appealing to the organizers of Sara All Philippines 2022 to forego the planned Cotabato to Manila caravan from November 4 to 15," Duterte said in her official Facebook account.
Local convenors of the "Run, Sara, Run" here have earlier planned to hold a grand caravan in Pasay City from November 14 to 15 to further urge Mayor Sara to run for president in the 2022 polls.
The convenors, who were also members of the Sara All Philippines 2022, had planned to hold a caravan in Cotabato City, Bukidnon, and Cagayan de Oro City starting November 4. Between November 9 and November 13, supporters will be traveling to Manila.
The following day, November 14, they will convene at the Sofitel Philippine Plaza Manila in Pasay City until Nov. 15, the deadline for the substitution of candidates.
"In the times of the Covid-19 pandemic, it is extremely unwise to move around the country. I am urging the organizers and the supporters to translate your expression of support into something productive and relevant to society," Duterte said.
She also urged them to instead use their money to buy food to feed the hungry and the poor and to conduct other activities that would benefit those who have less in life and the underprivileged.
"Let us not unnecessarily contribute to global warming. Let us save on fuel. Your overwhelming support and trust in me are not being unnoticed. They are deeply appreciated," Duterte added.
However, she reiterated that the caravan was unnecessary because a decision had already been made public as early as September 10 that she is not running for President.
The presidential daughter filed her certificate of candidacy (COC) for mayor at the Commission on Elections (Comelec) here on October 2, reiterating that she wanted to finish her last term as the local chief executive of this city. (PNA)
Source: Business Diary Philippines