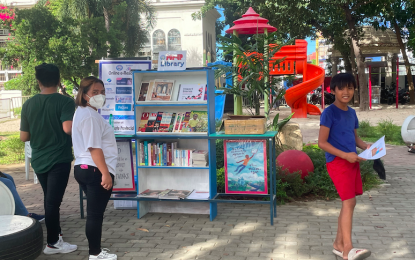 LAOAG CITY–A pop-up library consisting of widely-read Ilokano magazines, pocketbooks, and children's books, among others, has been attracting the elderly as well as children at the east wing of the Ilocos Norte Capitol building.
Installed near the Capitol interactive park where children play, the pop-up library manned by personnel of the Ilocos Norte i-hub center aims to promote the pleasure of reading among Ilocanos in this northern gateway of Luzon.
With a more relaxed movement of people, Grace Justo, a staff of the Provincial Library, said Tuesday they also conduct storytelling among children at the park and provide free reading materials to interested individuals.
"As part of the library and services month this November, we are bringing back the pop-up library at the Capitol until next week," said Justo in an interview.
Previously, the mobile library has popped up in several spots of the province including the Ilocos Norte Provincial Jail, but it was temporarily stopped following the surge of the coronavirus disease 2019 (Covid-19) cases in the province.
But with the steady decrease of cases, the provincial library has resumed its pop-up library as it hopes to expand in various parts of the province.
In Vintar town, a mobile library was also launched to address the learning gaps among struggling learners in reading and comprehension skills.
This was initiated by the Florentino Camaquin Integrated School (FCIS), which has been reaching out to rural villages such as in Barangays Parut, Margaay, Lubnac, and Parparoroc where learners have a weak signal or zero access to an internet connection.
In an earlier interview, Arnel Sabuco, school head of FCIS, said the reading project is implemented to help address the call of the Department of Education (DepEd) that all schools across the county will take part to make every learner a proficient reader.
"This project will be visiting four barangays during Tuesday and Thursday with our language teachers in English and Filipino, to help enhance our learners' reading and comprehension skills," Sabuco said.
Local study shows there were about eight to 10 learners in every village that are struggling in reading due to lack of materials and exposure to modern learning materials.
With this, FCIS conducted school fundraising activities with the help of the Parents-Teachers Association, and some assistance from the local government unit of Vintar, to produce a modern mobile library to cater to the needs of their learners, from reading to the use of technology. (PNA)
Source: Business Diary Philippines