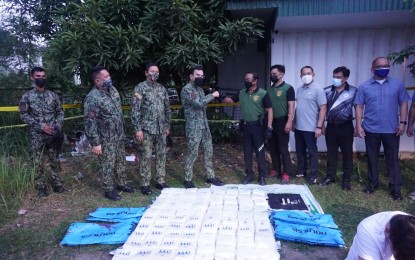 MANILA – The Philippine National Police (PNP) said it fully trusts the Department of Justice (DOJ) and would fully cooperate in the agency's probe into the alleged violations committed by police officers in pursuing the government's anti-illegal drugs campaign.
In a statement Tuesday night, PNP spokesperson Col. Roderick Alba said they respect the call of various organizations for the resumption of the International Criminal Court's (ICC) investigation into the country's anti-narcotics campaign.
"Let us remember that it was the decision of the ICC to suspend the probe granting the deferral request of the Philippine government. It might have halted at the ICC, but the investigation continues here through the DOJ. The PNP gives its full trust to the DOJ's handling of the drug cases. The justice department is expected to come up with their findings and recommendation as an offshoot of their probe," Alba said.
At least 52 cases involving 154 police officers will be prioritized by the joint team of the PNP and National Bureau of Investigation (NBI). These cases were already reviewed by the DOJ and were recommended for further investigation and case build-up.
The criminal cases that may be recommended by the team are separate from the administrative cases that would be pursued by the PNP's Internal Affairs Service.
On Saturday, Malacañang welcomed the decision of the ICC to suspend its investigation into alleged human rights violations committed under the national anti-drug campaign but reiterated the Hague-based court "has no jurisdiction" over the Philippine government.
Acting Presidential Spokesperson Karlo Nograles, however, said it does not preclude the government from communicating with the ICC.
Nograles welcomed the "judiciousness of the new ICC prosecutor, who has deemed it fit to give the matter a fresh look."
The Philippine government has previously asked the ICC to defer its investigation on the alleged abuses and crimes in the course of the administration's drug war.
The letter, dated November 10, was sent to ICC Prosecutor Karim Khan by Philippine Ambassador to the Netherlands Eduardo Malaya. (PNA)
Source: Business Diary Philippines