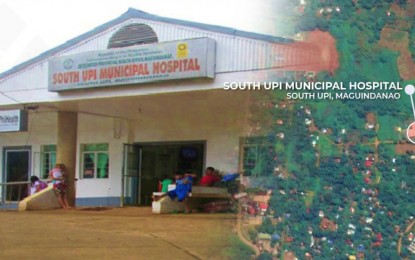 COTABATO CITY – A parliament member in the Bangsamoro Autonomous Region in Muslim Mindanao (BARMM), who represents the indigenous peoples (IPs) in the region's lawmaking body, has proposed the upgrading of the upland South Upi Municipal Hospital (SUMH) in Maguindanao.
Most residents in South Upi belong to the Teduray IP community. It is a fourth-class agricultural municipality with a 43, 197 population as of the 2020 census.
BARMM Member of Parliament (MP) Romeo Saliga said Thursday he filed a bill seeking the upgrading of the existing SUMH in Maguindanao from a 10-bed to a 25-bed capacity infirmary.
"I filed Parliament Bill 148 on Wednesday before the plenary for the benefit of the IPs in Maguindanao," he said.
The bill also called for the upgrading of the hospital's existing facilities following the national standards set by the Bureau of Health Facilities and Services under the Department of Health.
The SUMH is the only hospital in South Upi, and the majority of its patients are IPs from Maguindanao and nearby Sultan Kudarat province.
The nearest referral hospital from the municipality is the Cotabato Regional Medical Center in Cotabato City, some 63 kilometers away and the travel time to the regional health facility takes about three hours.
The SUMH has an average of 20 to 36 patients per day, based on statistics from health offices in the province and the region.
"With these statistics, there was overcrowding of patients and more workload on the personnel contributing to mental and physical exhaustion of hospital personnel," Saliga said in his bill's explanatory note.
The Ministry of Health is in charge of the administrative oversight of the SUMH and is authorized to develop and approve the proper organizational structure for the hospital's management operations.
Under the Bangsamoro Organic Law, the BARMM government is mandated to provide a comprehensive and integrated health service delivery to its constituents and establish by law a general hospital system to serve the health needs of its people.
MPs Rasul Ismael and Susana Anayatin co-authored Saliga's bill. (PNA)
Source: Business Diary Philippines