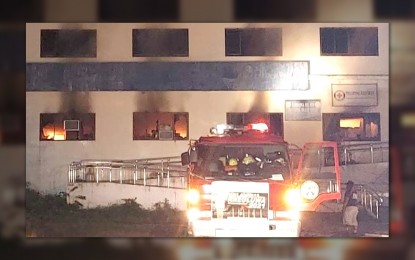 MANILA – The government will replenish the 148,678 doses of coronavirus disease 2019 (Covid-19) vaccines that were destroyed in a fire that hit the Provincial Health Office of Zamboanga del Sur on Sunday night.
In a joint statement issued Monday, the Inter-Agency Task Force on Emerging Infectious Diseases (IATF-EID), National Task Force (NTF) Against Covid-19, National Vaccination Operations Centers (NVOC), and the Department of the Interior and Local Government (DILG) said they are closely monitoring the investigation.
"We are saddened that 148,678 doses of Covid-19 vaccines were damaged during the fire that broke out at the Provincial Health Office of Zamboanga del Sur on the evening of October 31," it read.
All concerned agencies are on standby to provide immediate support to the Regional and Local Vaccination Operations Centers in the Zamboanga Peninsula, it added.
"May this unfortunate incident be a reminder to all local government units to ensure the safety and security of these life-saving vaccines," it said.
Responders are retrieving vaccines that may still be useful and other items like refrigerators, vaccine carriers, and transport boxes.
The administration of jabs at the provincial and municipal levels is also rescheduled.
"We would like to assure the residents of Zamboanga del Sur that the NTF and NVOC will replenish all the damaged vaccines, especially those meant for citizens who are scheduled to get their second dose soon. The vaccine doses will be shipped immediately as soon as the new cold storage is ready for use," the statement said.
In an interview at the Laging Handa press briefing also on Monday, NVOC chair and DOH Undersecretary Myrna Cabotaje, said they will also probe why the vaccines were still unused, a probable violation of a DILG order that all local government units (LGUs) must deploy and administer the jabs three days after receiving the supplies from the national government.
"We will look into that and then see who are accountable," Cabotaje said.
She said the regional office is already implementing its backup plan.
"We are looking at how we will stock our cold chain equipment, if there are additional refrigerators that can be repositioned, additional freezers, and ultra-refrigerators," she added.
Based on the NTF's initial report, the fire in Pagadian City destroyed 9,176 doses of AstraZeneca allocated as second shots, 14,400 Moderna to be used for pediatric vaccination, 88,938 Pfizer-BioNTech jabs, and 36,164 Sinovac vaccines, and those for routine immunization vaccines.
The DILG and DOH called anew on LGUs to make sure their respective vaccine safety offices would "report 24/7 in all Covid-19 cold chain facilities and warehouses".
"An intensified monitoring mechanism will be put in place to ensure that vaccines deployed from the national warehouse will be immediately distributed to implementing units across provinces, cities, and municipalities," the statement added.
Sad news
Malacañang is saddened by the loss of some 148,678 Covid-19 vaccines in a fire in Zamboanga del Sur.
"Malungkot nga po 'tong balitang ito dahil ang nasunog po talaga ay yung regional [Department of Health] office (This is sad news because what was destroyed in the fire was a regional DOH office)," Presidential Spokesperson Harry Roque said in a Palace press briefing.
"Ito po talaga ay nangyayari. Hindi po talaga natin ninais na magkaroon ng ganyang sunog. (These incidents really happen. Nobody wanted a fire to happen)," he added.
He also assured stocks will be replenished as soon as possible "because supply is no longer a problem."
Earlier, National Task Force (NTF) Against Covid-19 Chief Implementer Carlito Galvez Jr. said the country has sufficient Covid-19 vaccine supply as authorities kick-off an expanded immunization program to include minors aged 12 to 17. (with reports from Azer N. Parrocha/PNA)
Source: Business Diary Philippines