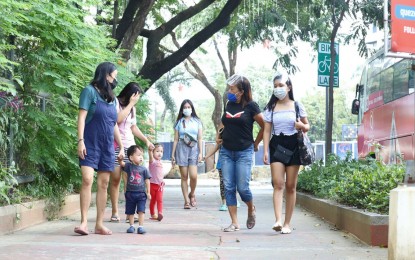 MANILA – The best Christmas gift one can give their loved ones this holiday season is to get vaccinated against the coronavirus disease 2019, National Task Force (NTF) Against Covid-19 chief implementer and vaccine czar, Secretary Carlito Galvez Jr., said.
"The best Christmas gift that we can give to ourselves, our families, our friends and co-workers, and everyone in the community is to have ourselves vaccinated. Get the Covid-19 jab now so we can have a better and safer Christmas," he saidin a news release.
About 3.5 million doses of Sinovac vaccine procured by the national government arrived Wednesday morning, moving closer to the goal of protecting more Filipinos by the end of the month.
In the past weeks, the Philippines has seen a steady delivery of vaccine supplies from various manufacturers.
Galvez personally welcomed the arrival of the vaccine, along with Chinese Ambassador Huan Xilian, Chief of Presidential Protocol and Presidential Assistant on Foreign Affairs Undersecretary Robert E.A. Borje, and health officials.
"With the arrival of these Coronavac jabs, we are moving closer to our goal of reaching a daily vaccination rate of 1.5 million doses and achieving population protection by year-end," he said during the vaccine arrival. "The Filipino people will always be grateful to Sinovac and the Chinese government for facilitating the continuous and time(ly) delivery of these life-saving vaccines."
The latest shipment completes the delivery of Sinovac jabs to the Philippines, procured through the Asian Development Bank.
The Philippines has so far received more than 54 million doses of the China-made vaccine, comprising more than 40 percent of its total vaccine supply.
In the same news release, Galvez said he was confident that by the end of November, half of the target population would be fully vaccinated.
As of November 15, the total number of vaccine doses administered has reached 70,677,771. Fully protected Filipinos are now at 31,868,120.
With its goal of vaccinating 70 percent or 77 million of the Philippines' total population, the national government is on track to fully inoculate half of this number and administer at least one shot to 54 million Filipinos by the end of the month, Galvez said.
With the latest Sinovac vaccine delivery, the country's vaccine supply inventory has reached 128,444,400 doses.
"More than 16 million doses are still expected to arrive this November, which means that by the end of this month, we would be receiving 140 million doses since February. These will be crucial as we carry out a more aggressive vaccination rollout nationwide," he said.
Galvez urged the people to support the upcoming massive vaccination drive, dubbed Bayanihan, Bakunahan National Vaccination Days, from November 29 to December 1 by having themselves vaccinated.
"All systems go na po tayo in our National Vaccination Days and we are continuously working with all sectors to ensure its seamless implementation. That's why we call on everyone – lahat ng Pilipino na nasa lungsod, probinsya, o mga isla sa iba't ibang panig ng ating bansa – pupuntahan at hahatiran namin kayo ng bakuna upang maprotektahan kayo at ang inyong mga mahal sa buhay (We call on everyone in the cities, provinces, and islands nationwide, we will go to you and deliver the vaccines so that you and your loved ones get protected)," he said."Get the Covid-19 jab and be a hero to your family and community."
All government assets, including military aircraft and other service vehicles, would be used to ensure the success of the nationwide activity, he added.
These will be used in the deployment of 15 million to 16 million Covid-19 vaccine doses to the regions and provinces.
The three-day activity, a collaborative effort of the national government, local government units, and the private sector, aims to build up and sustain the country's momentum to administer 1.5 million vaccine doses daily. (PNA)
Source: Business Diary Philippines