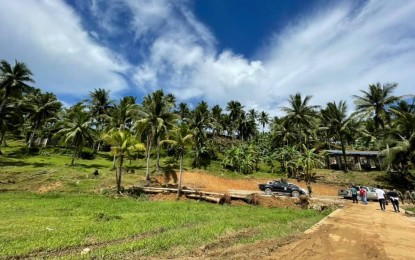 TACLOBAN CITY – The Philippine Fiber Industry Development Authority (PhilFIDA) has formally transferred the ownership of their 14.8-hectare property in Mondragon, Northern Samar to the provincial government for the construction of houses for former rebels of the New People's Army (NPA).
A groundbreaking was held Monday in Cablangan village, signaling the start of building a new community, with Northern Samar Governor Edwin Ongchuan and PhilFIDA Executive Director Kennedy Costales leading the event.
"Thank you PhilFIDA for this significant contribution to our efforts to attain lasting peace in our province. Indeed, when the government and stakeholders work together, pool resources for the good of the community, we can make things possible," Ongchuan said.
The governor thanked government agencies and partners that will help the province realize its project.
"I am also happy for our peacebuilders because your dream to live in a peaceful community with your family will soon be coming true," he added.
At least 50 houses will rise during the initial phase of the project, which will be funded by the National Housing Authority (NHA).
Each housing unit will cost PHP450,000. The province is targeting to build 300 houses for former communist rebels in the new village.
The NHA is setting aside PHP22.5 million for the housing project, according to NHA Eastern Visayas regional manager Constancio Antiniero.
"Officially, there are only 15 former rebels who are included in this program but because of the generosity of our general manager, we will cater to more beneficiaries," Antiniero said.
The provincial government will also implement livelihood projects like the integrated demo farm abaca plantation for former rebels.
Costales, during the event, said that in the 17-hectare property in Cablangan village, they have retained three hectares to set up an abaca demonstration farm.
For former rebels who know nothing about abaca farming and processing, PhilFIDA has committed to training them.
For every hectare of an abaca plantation, PHP250,000 to PHP1.4 million every year can be earned.
"If this happens, no one will ever dare to join the communist group because they see how beautiful a life living in a normal community," Costales added.
Abaca fiber is now in demand in the global market due to its application in various products such as electronics, health, and medical products like face masks and personal protective equipment.
Abaca, known as Manila hemp, is considered the strongest of natural fibers.
For decades, abaca fibers are extensively used to produce ropes, woven fabrics, and tea bags, among others.
The Communist Party of the Philippines (CPP)-NPA is listed as a terrorist organization by the United States, European Union, the United Kingdom, Australia, Canada, New Zealand, and the Philippines. (PNA)



Source: Business Diary Philippines