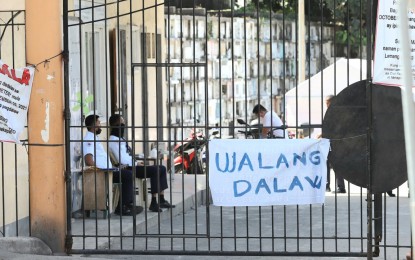 MANILA – President Rodrigo Duterte defended the five-day closure of cemeteries, memorial parks, and columbaria nationwide during Undas for the second year in a row amid criticism from some local government units (LGUs) outside Metro Manila.
Duterte said the Inter-Agency Task Force for the Management for Emerging Infectious Diseases (IATF-EID) called the shots in deciding ways to prevent a potential super-spreader event of coronavirus disease 2019 (Covid-19) transmission in the country.
"Ito ho ay talagang utos, mandato ng IATF at wala po tayong magawa at sumunod kasi sila yung may authority na magsabi ito 'sunod tayo, dito tayo' in (This is the order, the mandate of the IATF and we have no choice but to follow because they have the authority to say 'let's follow this, let's do this') so far as the fight against Covid," he said in a prerecorded public address aired Wednesday morning.
He pointed out that the IATF-EID was trying its best to regulate and control the allowed capacity of people visiting their departed loved ones.
"If they think that it is really not good for the health of the people to be crowding in cemeteries in great numbers, those were the problems that they expected and tried to avoid," he added.
Cemeteries, memorial parks, and columbaria nationwide were closed from Oct. 29 to Nov. 2 to curb the spread of Covid-19. However, they would be allowed to open outside of these dates at 30 to 50 percent of their maximum capacity.
All Saints' Day and All Souls' Day are traditionally celebrated on Nov. 1 and 2, respectively.
This year, All Saints' Day remains a special non-working day while All Souls' Day is a "special working day" as declared by Malacañang under Proclamation 1107.
League of Provinces of the Philippines (LPP) President and Marinduque Governor Presbitero Velasco Jr. earlier said LGUs sought the opening of cemeteries in their areas for at least two days, specifically Oct. 30 and 31, noting that there would be an influx of visitors on different dates.
However, he said it would still be the IATF to decide whether they would allow the request of these LGUs.
In Duterte's Undas message, he urged the nation to "pray for each other" amid the prevailing Covid-19 pandemic, especially those who have departed.
"As we follow the example of the saints and pray for our loved ones who have passed on, let us also pray for each other, especially during this pandemic," he said. (PNA)
Source: Business Diary Philippines