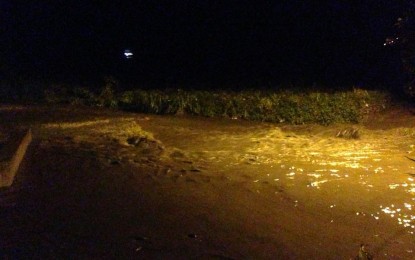 DUMAGUETE CITY – The city government here through Mayor Felipe Antonio Remollo has raised the budget for the flood control project in the barangays of Banilad and Mangnao from PHP8-million to PHP25-million.
A media release from the city public information office on Friday said the budget adjustment is aimed at having a more "comprehensive and effective flood control project" in the Banilad-Mangnao area.
It will be implemented as soon as the program of works is completed.
On Nov. 11, Councilor Manuel Patrimonio led a team in conducting an ocular inspection at the Lagnasan Creek to the highway in Banilad and Mangnao before the construction of dikes, box culverts, and canals to prevent flooding in the future.
Floodwaters from Valencia to the Cantil-e and Banilad Creek reach the slaughterhouse road down to the highway, even on regular days without any weather disturbance or storms but due to heavy downpour.
The flooding problem has not been addressed over the past years by previous administrations.
Representatives of the City Engineer's Office, City Planning Development Office, City Legal Office, and barangay officials also joined the inspection and survey that will also determine the private properties and homes that might be affected by the flood control project.
Barangay officials are asked for their inputs on the right of way acquisition, structure design, and negotiation with landowners and properties that will be affected by the project. (PNA)


Source: Business Diary Philippines