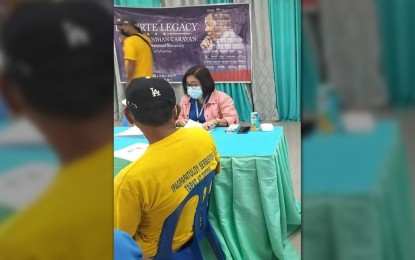 SAN JOSE DE BUENAVISTA, Antique – The Municipality of Barbaza in the northern part of Antique province was chosen by the Department of Social Welfare and Development (DSWD) in Western Visayas as its pilot municipality for the Yakap Bayan Program (YBP).
DSWD Regional Office 6 Social Technology Unit head Gloria Templanza, who handles the YBP, said in an interview Tuesday the program is a holistic intervention intended to assist the Recovering Persons Who Used Drugs (RPWUDs) in their journey.
"The 58 RPWUDs together with their 58 additional family members during the launching of the YBP in Barbaza were given medical and educational assistance in the total amount of PHP500,000 by the DSWD as part of assistance to them," Templanza said.
Based on the assessment of their Municipal Social Welfare and Development Office (MSWDO), the 58 RPWUDs, who are drug surrenderers of the town, and the 58 family members each received cash assistance ranging from PHP4,000 to PHP5,000 released on November 5.
The cash assistance for RPWUDs is intended for medicines for their treatment, aftercare, and social reintegration with their families and communities while the aid for family members, especially children, served as educational assistance.
In a separate interview, Barbaza Municipal Social Welfare and Development officer Prechie Alatava said Mayor Gerry Necor sent a letter of intent to the DSWD expressing the town's interest to serve as the pilot local government unit (LGU) for the program.
In addition to the latest cash assistance, the RPWUDs also served as volunteers for the Municipal Disaster Risk Reduction and Management Office (MDRRMO).
"The RPWUDs had completed the disaster response training on September 28-29 this year so that they would become volunteers of the Municipal Disaster Risk Reduction and Management Office," she said.
She added that they are also working for the RPWUDs to be given honorariums as volunteers.
The Municipal Health Office in coordination with the Department of Health had been conducting drug testing, rehabilitation, and other medical interventions on the RPWUDs so they will not return to old vices. (PNA)



Source: Business Diary Philippines