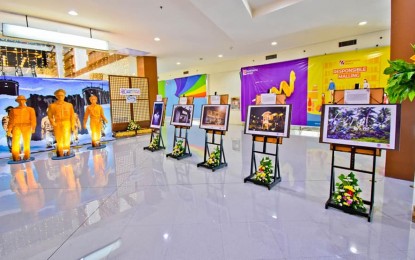 TACLOBAN CITY – The Department of Tourism (DOT) raises public awareness on the role of Eastern Visayas in liberating the country from Japanese occupation through a two-week photo exhibit in one of the city's key shopping destinations.
World War II photos will be on display at Robinsons Place Tacloban until Nov. 14, showing the collections from various groups, local government units, and the best photographers in the region.
"Through these images, we hope to give awareness and educate more people on the events that happened in the region during the war period and appreciate the victory that led us to the freedom we enjoy today," said DOT Eastern Visayas regional director Karina Rosa Tiopes in an interview Wednesday.
The photo exhibit is dubbed "Reflections on the People, Places, and Events of World War II in Eastern Visayas" and opened on Oct. 30, just 10 days after Leyte province commemorated the 77th Leyte Gulf Landings.
The exhibit includes works of Eugene Sullano (Gawas Harigi), Reginald Alcober (Flags of Freedom), Alissandra Serrano (Sarapati and Moonlight), Randell Ongbico (The Library, The Last Line, Pieces of the Past), Joel Opiniano (Old House), Eugene Sullano (Lola Lilia), Kristoffer Kinno Cuayzon (Leyte Provincial Capitol), and Enrique Espejo, Jr. (Shadows of the War).
Also featured are photos of the 10 oldest living World War II veterans in Eastern Visayas.
Of the 49 living veterans in the region, the oldest is the 105-year-old Maximo Abaigar from Paranas, Samar.
Also on display are images of historical structures in Leyte such as the MacArthur Landing Memorial Shrine, the Leyte Provincial Capitol, Hotel Alejandro, Hill 120, Redoña Residence, and Balay Hairigi in Carigara.
Also featured in the exhibit are timelines of the events in Eastern Visayas from 1941 to 1944.
"These images will also be featured in the future. The management of Robinsons will allow us to use the space at the mall annex if there are no set activities in the area," Tiopes added.
The exhibit is part of the post-Leyte Gulf Landings commemoration, an annual historical event in Leyte to commemorate the arrival of Allied Forces led by Gen. Douglas MacArthur on Oct. 20, 1944 to liberate the country from the hands of the Japanese Imperial Forces that occupied the country from 1942 to 1945.
The arrival of the Allied Forces has led to the Battle of Leyte Gulf, dubbed the biggest and most multi-faceted Naval battle in history with more than 200,000 personnel and hundreds of ships involved, and paved the way to the defeat of Japanese Forces in the country. (PNA)
Source: Business Diary Philippines