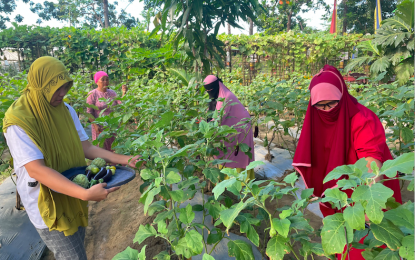 LAOAG CITY–Displaced by a series of lockdowns due to the ongoing health crisis, some 32 enterprising parent groups of the Ilocos Norte United Muslim Association (INUMA) in this city found a new source of joy as they are now reaping the fruits of their hard labor.
Located at the heart of the city in Barangay 1 is a 1,200-square meter bio-intensive garden being attended to by Muslim women who are beneficiaries of the national government's Pantawid Pamilyang Pilipino Program or 4Ps.
One of the parent group members Recondaya M. Adam, 53, a widow with six children, in an interview on Thursday said she enjoys staying at the garden all day as she helps feed the ducks, chicken and goats while harvesting fruits and vegetables for the table.
Together with the other ladies of INUMA, Adam said they take turns in maintaining the bio-intensive garden which they envision to become a model urban garden in the region as well as an eco-cultural tourism site in the city.
True enough, the group succeeded as they recently won this year's Model Bio-intensive garden in Ilocos Region. The award comes with at least PHP30,000 cash prize and a plaque of recognition.
The Department of Social Welfare and Development (DSWD), in partnership with the Department of Agriculture (DA), launched the annual search for bio-intensive garden among 4Ps communities since 2017 as it aims to sustain food productivity.
In a group interview with the INUMA ladies, the Philippine News Agency learned that most of them are newbie "plantitas" (lover of plants).
Married with four kids, 28-year old Naida Bunsa said they used to sell various dry goods near the Laoag supermarket, but due to limited mobility caused by the coronavirus disease 2019 (Covid-19), most of them who are categorized as "non-essential workers" were confined at home during the surge of the pandemic.
While at home with more time bonding with family members, the group said they are thankful to the city government under the administration of Mayor Michael M. Keon for allowing the use of a vacant public lot near the river dike of the Muslim compound as they turned it into what it is now as a productive garden, sustaining the needs of the community.
"Instead of going to the market, the garden has become a productive source of healthy foods for us," Bunsa said.
With the help of organic agriculture experts from the Ilokano community who train newbies in farming, the group said they learned new skills and applied new technologies related to bio-intensive gardening.
In a separate interview, INUMA president Ismael Ali expressed his gratitude to the government particularly to the city and provincial governments "for allowing the Muslim community to showcase their agricultural and community-building skills."
Last October, a deed of usufruct was formally signed between the city government of Laoag and the INUMA for the establishment of the bio-intensive garden which is valid for five years and it can be renewed after. (PNA)
Source: Business Diary Philippines