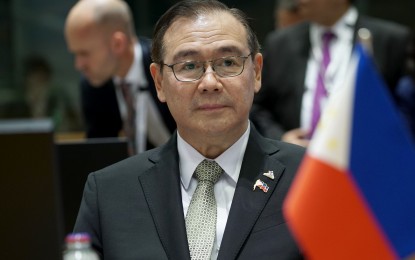 MANILA – The ongoing United Nations Climate Change Conference 26 (COP26) is the "last best hope" of Earth in the face of human-induced climate change, Foreign Affairs Secretary Teodoro Locsin Jr. said as he joined urgent calls to finalize the Paris Agreement rulebook.
"This is the world's last-ditch effort to save the planet. Let's get that Paris Rulebook done. Succeeding COPs will be fine-tuning solutions or accelerating them," Locsin said at the climate summit that kicked off in Glasgow, Scotland on October 31.
"Think of an airplane out of control on a downward spiral. The crash is coming; all we have is a thin hope that the same people responsible for this predicament, and now at COP26, will be the hands that land the plane safely."
Locsin noted that countries with a greater capacity to absorb the brunt of hard solutions "must take them" and "help those with less capacity."
He also reiterated President Rodrigo Duterte's previous appeal to developed countries to fulfill their "long-standing commitment" to climate financing, technology transfer, and capacity-building in the developing world.
Citing the chief executive, Locsin said the Philippines' vulnerability to climate change is "undeniable" as a country battered by typhoons year after year.
"He (President Duterte) was rightly indignant: 'The greatest injustice here is that those who suffer the most are those the least responsible for this existential crisis... but here we are now at a critical tipping point where failure to act leads to cataclysmic consequences for the whole of humankind," he said.
The Paris Rulebook or the guidelines to implement the Paris Agreement covers the pact's technical details, including the pledge to mobilize USD100 billion a year to help developing countries adapt to climate impacts.
The UN Emissions Gap Report 2021 shows that despite the national climate pledges combined with other mitigation measures across the globe, the world is still on track for a global temperature rise of 2.7 degrees Celsius by the end of the century – above the 1.5 degrees Celsius goal of the Paris Agreement.
The report said to keep global warming below 1.5 degrees Celsius this century, the world needs to halve annual greenhouse gas emissions by 2030.
On October 31, leaders of the world's 20 richest nations underscored their commitment to the 1.5 degrees Celsius goal.
The United States, together with the United Arab Emirates, is also set to launch during the COP26 the Agriculture Innovation Mission for Climate (AIM4C), a joint initiative supported by the Philippines to "catalyze greater investments in climate-smart agriculture and global food systems innovation."
The five-year program seeks to drive more rapid and transformative climate action in agriculture, which contributes to about 25 percent of all greenhouse gas emissions. (PNA)
Source: Business Diary Philippines