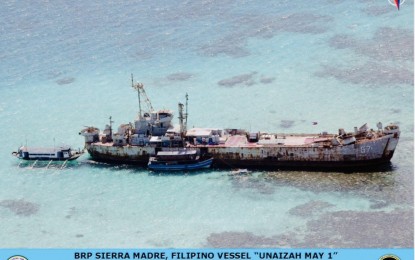 MANILA – The Chinese envoy to Manila has vowed a probe into the alleged act of intimidation by a Chinese Coast Guard ship against Philippine vessels that conducted a resupply mission to troops stationed at the BRP Sierra Madre at the Ayungin Shoal, Department of National Defense (DND) Secretary Delfin Lorenzana said Tuesday night.

Lorenzana's remarks came after reports said the Chinese Coast Guard deployed personnel on board a rubber boat who took pictures and videos of Manila's resupply mission earlier on Tuesday.
"That he (Chinese Ambassador Huang Xilian) did not know about it and that he would make (an) inquiry," he said in a message when asked about Huang's response when told that the Philippines considers such actions as a form of intimidation and harassment.
Lorenzana earlier said Huang assured him that the resupply efforts would not be impeded.
Asked if the incident warrants a diplomatic protest, he said it is not necessary at the moment.
"Personally, I believe not at the moment. But I have forwarded my messages to (Foreign Affairs) Secretary (Teodoro) Locsin. He might. I think telling the ambassador we consider these (actions) as intimidation and harassment are sufficient at the moment. He communicates with his principals in Beijing regularly and am sure he relays our concern," he added.
Lorenzana earlier said the two resupply boats have safely arrived at the BRP Sierra Madre at the Ayungin Shoal at about 11 a.m. on Tuesday.
The two resupply boats left Oyster Bay on Monday after repairs on one of the boats were completed.
The Western Command earlier reported that three Chinese Coast Guard vessels "blocked and water-cannoned" two Philippine supply boats or "bancas" on November 16.
No one was hurt but the Philippine vessels, which were identified as the Unaizah May 1 and Unaizah May 3, had to abort their mission after one of them had its outrigger damaged by the water cannon. (PNA)
Source: Business Diary Philippines