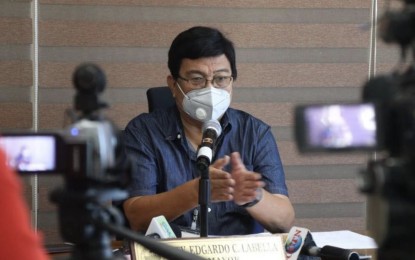 CEBU CITY – Mayor Edgardo Labella passed away before dawn Friday. He was 70.
Edgardo "Jaypee" Labella Jr., son of the mayor, in a press conference at the Cebu City Mayor's Office, said his father died while confined at the Perpetual Succour Hospital here.
Jaypee said the attending physician declared that his father died due to "septic shock secondary to pneumonia."
Acting Mayor Michael Rama urged residents to "pause for a moment of silence and offer our prayers for Mayor Labella's eternal rest," as he offered to the mayor's wife, Joy, and their children, Jaypee and Eugene.
"I am deeply saddened by the passing of my partner and dear friend, Edgar Labella, "he said.
Rama recalled that his partnership with Labella was formed in 2012 when the latter became his vice mayor "and our friendship is one that has lasted since the 90s."
He said their friendship went through political and personal adversity, recalling moments when the mayor consoled and supported him and his family.
"His accomplishments in life, are kilometric, as a proud scholar, lawyer, prosecutor and public servant. He authored many meaningful pieces of legislation as a councilor and head of the Committee on Laws and Good Governance," Rama said of Labella.
As vice mayor, Rama said Labella was an "effective master of parliamentary procedure" being a legal luminary and a person who, up to the moment when he was elected mayor in 2019 as a mayor, was "deliberative, just, reasonable, fair and forward-thinking."
"It was my honor to serve as his vice mayor. He led us during a most challenging time," he said.
The mayor never failed to make light moments despite the hard times by cracking a joke or sharing an anecdote with his colleagues, he added.
Before he became mayor in 2019, Labella served two consecutive terms as vice mayor of Cebu City from 2013 to 2019.
He was a member of the City Council representing Cebu City's north district from 1998 to 2001 and again from 2004 to 2013. (PNA)
Source: Business Diary Philippines