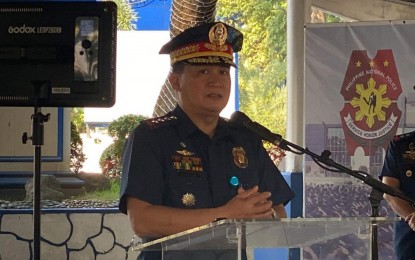 MANILA – Philippine National Police (PNP) chief Gen. Dionardo Carlos on Monday gave the Police Regional Office (PRO)-5 a week to complete its investigation on the incident where a ranking police aviation officer beat up a subordinate which caused him to be blind in one eye.
On Sunday, Carlos personally checked on the victim, Master Sgt. Ricky Brabante of the Regional Mobile Force Battalion-5, who was allegedly hit with broken glass by Regional Aviation Commander, Col. Dulnoan Dinamling Jr.
"In one week's time, I want the result of the investigation. If Ricky (Brabante) would file a criminal charge against the senior officer (Dinamling), he can go ahead. We will let him (Dinamling) answer criminally in the proper court," Carlos said in a press briefing in Camp Crame.
"The initial action from (PRO-5 director) Brig. Gen. Jonnel Estomo was to immediately relieve the battalion commander. It was his birthday and drinking sessions are forbidden. The RD immediately relieved the battalion commander and he will have to answer why they were drinking inside the offices. They have to tell us why and if there is a violated regulation we will hold them accountable for their violation)," he added.
Dinamling has been transferred to the Administrative and Resource Management Division - Personnel Holding and Accounting Section at the Pasay City headquarters.
Carlos said Dinamling admitted to him that he was assessed to have a low alcohol tolerance.
"Kinausap ko si Dinamling and he told me 20 years ago, siya po ay na-assess na mababa ang kanyang alcohol tolerance. So sabi ko 'That's your weakness, dapat yan ay iyong binantayan' (I talked to Dinamling and he told me 20 years ago he was assessed that his alcohol tolerance was low. So I said 'That's your weakness, you should guard that')," he added.
Meanwhile, Carlos said the PNP continues to give all forms of necessary assistance to the victim.
The PNP chief also said the statements were already taken from the witnesses of the incident and the physical assault incident must be treated as an isolated case because the act of one should not bring down the entire organization.
"Ang titingnan diyan yung sinasabi ng other witnesses to the incident kasi hindi lang naman silang dalawa (Brabante and Dinamling) ang papakinggan natin (The statements from other witnesses to the incident will be looked into because we will not only listen to the two of them). So it reflects not on the organization but the personnel involved," he explained.
A Special Investigation Task Group was created to investigate the incident that occurred last November 13. (PNA)
Source: Business Diary Philippines