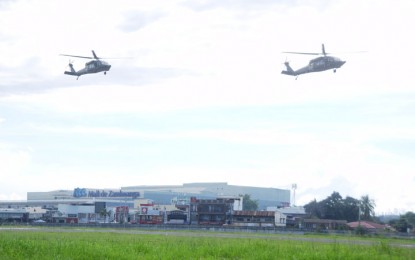 ZAMBOANGA CITY – The Armed Forces of the Philippines' (AFP) Western Mindanao Command (Westmincom) got a capability boost both in combat operations and disaster response with the arrival of two Black Hawk utility helicopters.
On Friday, Maj. Gen. Alfredo Rosario Jr., Westmincom chief, announced that the Tactical Operations Wing - Western Mindanao (TOW-WM), the major air force unit under the command, had received the two S70i Black Hawk utility helicopters from the AFP general headquarters.
Rosario said the deployment of the two Black Hawk helicopters would boost the capability of the military in this part of the country in both lethal and non-lethal operations.
The helicopters, he said, would be used to perform various missions in Western Mindanao, including support in combat operations and quick response for humanitarian aid.
"We are very grateful that the (AFP) top brass considered the deployment of these air assets, which will greatly contribute to the accomplishment of our missions here in Western Mindanao," Rosario said.
Col. Dennis Estrella, TOW-WM commander, said the two Black Hawk helicopters could absorb high-impact velocities, enabling them to withstand strong turbulent winds.
"Expect that with the deployment of the Black Hawk helicopters in our unit, our operations will greatly improve as these helicopters have larger capacity and more impressive horsepower, allowing a faster and longer-range transport," Estrella said.
The two helicopters arrived Thursday at the Edwin Andrews Air Base (EAAB), home of the TOW-WM in Barangay Sta. Maria, this city.
Before the welcome ceremony at EAAB, the choppers orbited and performed a descent procedure for a low pass over the entire city before making a direct-perpendicular land toward the 206th ramp.
Highlights of the welcome ceremony were the playing of the Mabuhay Hymn by the 530th band and the spraying of water from two fire trucks positioned on opposite sides of the helicopters.
Aside from Estrella, the momentous event was also witnessed by Brig. Gen. Arturo Rojas, Westmincom's deputy commander for operations, and Brig. Gen. Elpidio Talja Jr., the air combat command deputy commander.
The S-70i Black Hawk helicopter is the latest in the family of Black Hawk multi-mission aircraft. (PNA)
Source: Business Diary Philippines