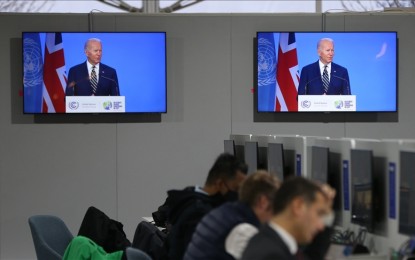 WASHINGTON – President Joe Biden apologized to the international community on Monday for his predecessor's decision to unilaterally withdraw the US from the landmark 2015 Paris climate accord.
"I guess I shouldn't apologize, but I do apologize for the fact the United States, the last administration, pulled out of the Paris accords and put us sort of behind the eight ball a little bit," Biden said in Glasgow as world leaders convened for a pivotal UN climate conference.
He was referring to former President Donald Trump's decision to exit the agreement in June 2017.
Biden pledged to restore US participation in the climate agreement on the campaign trail and moved to follow through on the promise shortly after he was sworn into office on Jan. 20.
Biden earlier told world leaders they are in the midst of a "decisive decade" that presents an "opportunity to prove ourselves" and unite as scientists warn that a failure to keep warming to within 1.5C will have disastrous effects worldwide.
"Glasgow must be the kick-off of a decade of ambition and innovation to preserve our shared future. Climate change is already ravaging the world," Biden said in the Scottish city as the 2021 United Nations Climate Change Conference, also known as COP26, began.
COP26 will continue until Nov. 12 with numerous panels, meetings, and side events, all looking for remedies to the climate crisis. (Anadolu)
Source: Business Diary Philippines