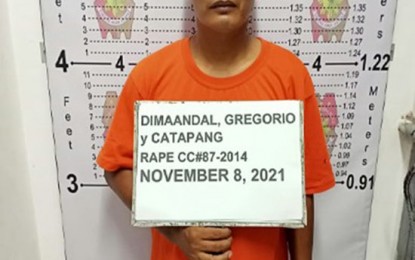 BUTUAN CITY – Police officers from this city on Monday arrested a wanted person from Batangas who has been in hiding for seven years.
In a statement on Monday evening, Brig. Gen. Romeo Caramat Jr., Director of the Police Regional Office in Caraga (PRO 13), said suspect Gregorio C. Dimaandal, 45, was arrested by personnel of the Butuan City Police Office (BCPO) in Km. 3, J.C. Aquino Avenue, Libertad here.
"Dimaandal is the number one most wanted person in Batangas province with seven standing warrants of arrest," Caramat said.
The arrest warrants include four counts of rape and three counts of acts of lasciviousness which were all issued by a Batangas court on June 5, 2014.
The operation that led to the arrest of the suspect was carried out by BCPO and the personnel from the Lemery Municipal Police Station in Batangas.
The Batangas police received information about the suspect, through the Crime Information Reporting and Analysis System (CIRAS), who was recently involved in a traffic accident here.
The suspect was identified through the driver's license he presented during the investigation of the mishap.
Upon obtaining this information, the Batangas police immediately coordinated with the BCPO to determine the identity of the person involved in the accident.
Caramat said a joint operation was immediately launched upon the determination of the identity of the suspect.
In an interview with the Philippine News Agency on Tuesday, Maj. Dorothy Tumulak, PRO-13 public Information officer, said further investigation showed that the suspect arrived in Surigao City from Batangas sometime in 2013.
"He stayed in Surigao City and transferred to Butuan City sometime in 2015 where he worked as a driver of a businessman," Tumulak said. (PNA)
Source: Business Diary Philippines