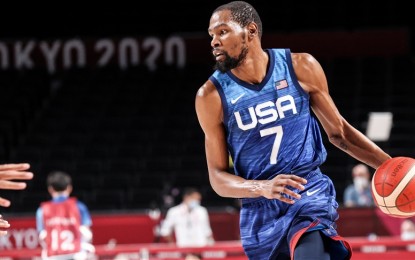 ANKARA – American basketball superstar Kevin Durant endorsed a special-purpose acquisition company (SPAC), which filed for a USD200 million initial public offering (IPO).
Infinite Acquisition Corp., incorporated in the Cayman Islands, filed for the IPO to the Securities Exchange Commission (SEC) on Wednesday, aiming to sell 23 million shares at USD10 per share.
"Our sponsor is a 50-50 partnership between Thirty Five Ventures, co-founded and led by NBA superstar Kevin Durant and entrepreneur Rich Kleiman, and LionTree, a leading investment and merchant bank," according to the filing.
The duo is also focusing efforts on building infrastructure at Thirty Five Ventures from which they could launch their own businesses, including a sports business media platform featuring digital video series, podcasts, e-newsletter, feature news articles and digital and social media content, it said.
If Infinite Acquisition Corp. cannot acquire a company to take public within 24 months, it will return the money to investors.
A SPAC, also known as a blank check company, is listed on a stock exchange to acquire a private company, but it is made public without going through the traditional IPO processes that the SEC regulates.
SPACs have recently gained the attention of American celebrities from basketball Hall of Famer Shaquille O'Neal to tennis star Serena Williams to rapper Jay-Z.
But the SEC in March warned investors about celebrities' involvement in SPACs, saying "Just because someone famous is involved in a SPAC doesn't mean it's right for you."
"Celebrities, like anyone else, can be lured into participating in a risky investment or may be better able to sustain the risk of loss. It is never a good idea to invest in a SPAC just because someone famous sponsors or invests in it or says it is a good investment," said the SEC's Office of Investor Education and Advocacy. (Anadolu)


Source: Business Diary Philippines