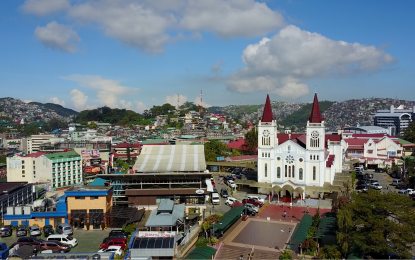 BAGUIO CITY –Businesses in the city will start to look for vaccination cards and give priority to those who have been inoculated with coronavirus disease 2019 (Covid-19).
In a message to the media on Monday, Baguio Tourism Council (BTC) Chairperson Gladys Vergara said businesses here are being advised to check for the vaccination card of clients.
This is to allow them to prioritize the clients who have been vaccinated.
The BTC is an organization of private business establishments in the city that assists the local government in implementing programs related to the sector.
Vergara said the instruction came from the city government in support of the national Inter-Agency Task Force (IATF) resolution 148-B that aims to encourage residents to receive the Covid-19 vaccine as a protection against the severe effect of the virus in case a person got infected.
Mayor Benjamin Magalong, in a message read by Atty. Althea Alberto, Executive Secretary IV, said, "with this new IATF Resolution, let us please remind all businesses and establishments to diligently check vaccination cards for customers and clients."
Alberto said the safety seal team is also cascading the same, to allow more establishments to comply and implement the prioritization of services to vaccinated clients.
As of November 14, the city has administered 443,658 doses of Covid-19 vaccines.
The city government earlier said there are 281,000 adult population and 50,000 pediatric individuals in the city who are eligible to get the vaccine. This is based on the 366,000 population generated by the Philippine Statistics Authority in the 2020 census of population. (PNA)
Source: Business Diary Philippines