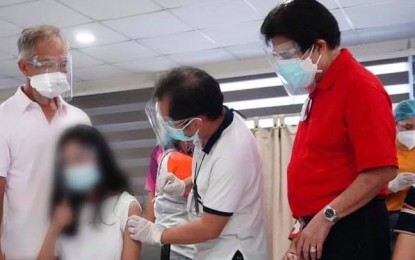 BACOLOD CITY – Parents of minors with comorbidities in this city are thankful for the opportunity to have their children be protected against the coronavirus disease 2019 (Covid-19) during the nationwide launch of the pediatric A3 vaccination on Oct. 29.
As of Tuesday, figures showed that Bacolod has recorded the most number of teen vaccine recipients in a single venue on that day.
Data obtained by the Emergency Operations Center-Task Force from the Department of Health (DOH) indicated that of all the vaccination sites where the rollout is done for minors, Bacolod City topped the list with 266 minors, aged 12 to 17, administered with Pfizer jabs at the Riverside College annex building situated behind the Dr. Pablo O. Torre Memorial Hospital.
In a video interview, Lilian Ruth Taborda said her child has expressed willingness to get vaccinated once the Covid-19 shots are made available for their age group.
Taborda welcomed the opportunity as she had then worried about her asthmatic child being infected with the virus since all their family members have already been inoculated against Covid-19 except for the minor.
"This is for our safety. The earlier, the better to avail of the vaccines. All of us at home are fully vaccinated so there is a need to have the children vaccinated as well," said mom Ana Mae Valenzuela.
Antonio Tan, also a parent, said minors need to be vaccinated and he thanked the DOH and the city government led by Mayor Evelio Leonardia for their efforts.
Ellen Dionela, a grandmother of a 12-year-old boy with autism, said they have been waiting for the day that children with comorbidities will finally be able to avail of Covid-19 shots.
"We're glad that he got vaccinated. We had fear because he has autism," she added.
Following Bacolod City in the top 10 list were Manuel A. Roxas District Hospital, with 246 vaccinees; Gov. Faustino N. Dy District Hospital, 226; City of Ilagan Medical Center, 216; Caraga Regional Hospital, 206; Baguio City General Hospital and Medical Center, 168; Batanes General Hospital, 156; Echague District Hospital, 155; St. Paul Hospital Inc. in Iloilo City, 130; and Teresita L. Jalandoni Provincial Hospital in Silay City, 77.
In Bacolod, inoculation of minors with comorbidities will continue on Nov. 3 and 4 in the same venue while vaccination for children aged 12 to 17 without comorbidities will also be held in two shopping malls starting Nov. 3. (PNA)
Source: Business Diary Philippines