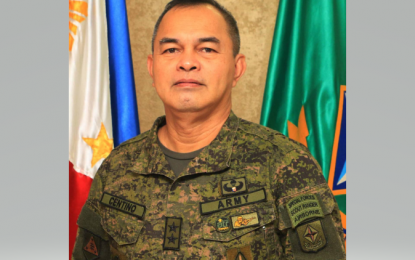 MANILA – Philippine Army (PA) commander Lt. Gen. Andres Centino credited the ongoing Army Transformation Roadmap (ATR) for being instrumental in the significant victories against local terrorist groups in the country, saying it has made the army more efficient in carrying out its tasks.
"Iyong pag-implement natin ng operations ay napadali na rin dahil disiplinado ang mga sundalo. If ever mayroon mang misbehaviors na nangyayari, we were able to act on these right away dahil may systems tayo (The implementation of our operations is made easier as our soldiers are more disciplined. If there will be cases of misbehavior, we will be able to act right away as we have a system now)," Centino said in a statement Tuesday night.
He added that the implementation of plans and programs has become easier due to fine-tuned procedures and organized planning and budgeting measures.
"We have instituted measures and scorecards to assess the efficiency of our performance. Because of this transformation roadmap, we have performed very well," Centino said.
He has laid out four significant thrusts upon taking the helm of the PA in May this year:
• Implement an intel-driven operation focusing on the primary tasks to defeat armed groups;
• Optimal use of resources;
• Advancement of professionalism, and meritocracy within the organization; and
• Protect the ownership of military camps and reservations for base development.
Last October 30, New People's Army (NPA) leader Jorge Madlos, alias "Ka Oris", and a fellow rebel were killed in an encounter in a mountainous area in Impasugong, Bukidnon.
Madlos, 71, the most wanted NPA commander in Mindanao, faced multiple criminal cases, among them robbery with homicide, damage to properties, murder, and double frustrated murder.
The Communist Party of the Philippines (CPP) - NPA is listed as a terrorist organization by the United States, the European Union, the United Kingdom, Australia, Canada, New Zealand, and the Philippines.
The National Democratic Front was formally designated as a terrorist organization by the Anti-Terrorism Council on June 23, 2021, citing it as "an integral and separate part" of the CPP-NPA created in April 1973.
Meanwhile, Dawlah Islamiya (DI) terror group leader Salahuddin Hassan and his wife were killed in remote Barangay Damablac, Talayan town, Maguindanao by troops of the 6th Infantry Division on October 29.
Hassan, who used the aliases "Orak", "Salah", "Tulea", and "Abu Salman", was the emir of the DI terror group operating in south-central Mindanao.
The Anti-Terrorism Council has named him as among the top terrorists operating in Mindanao. Hassan had a PHP1.3-million bounty on his head. (PNA)
Source: Business Diary Philippines