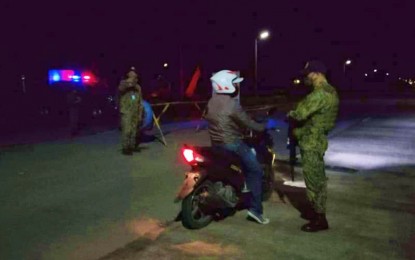 DATU ODIN SINSUAT, Maguindanao – Some 35 heavily armed members of the Moro Islamic Liberation Front (MILF) that had signed a peace deal with the government were disarmed by government forces here for traveling without coordination with state forces, police said Tuesday.
The 1997 general agreement on the cessation of hostilities between the government and the MILF states that movements of armed personnel from the MILF ranks must be coordinated with government forces to prevent any misencounter.
Government forces should also coordinate with MILF if the troop movement is within MILF-acknowledged areas.
However, Col. Jibin Bongcayao, Maguindanao police director, said no coordination was made with the police or the military when MILF members, armed with long and short firearms and in fatigue uniform traveled in a convoy along the highway in Maguindanao on Monday night.
Soldiers of the 1st Mechanized Infantry Brigade and Datu Odin municipal police office personnel manning a checkpoint in the borders of Datu Anggal Midtimbang and Datu Odin Sinsuat, both in Maguindanao flagged down the convoy at 9 p.m.
The MILF forces were on board a pickup truck and two commuter vans and were flagged down for inspection.
They claimed they were MILF members belonging to the 105th base command.
"They were polite, there was no resistance when our police asked them to disembark and submit themselves for inspection," Bongcayao said.
Bongcayao said for lack of coordination, the MILF fighters and their 35 long and short firearms were taken into custody by government forces.
Bongcayao said coordination is in progress between the ceasefire panels of the government and MILF for settlement of the incident.
Bongcayao said the movement of heavily armed men without coordination with state forces might trigger a misencounter and should not be allowed.
Led by a certain Commander Abdul Hamid Datuan, the MILF men claimed they were on their way home to their main base in Talitay, Maguindanao, from Mother Kabuntalan town where they attended a religious event when they were flagged down.
They are now at the headquarters of the 2nd Mechanized Battalion in Talayan, Maguindanao.
Following the signing of the GPH-MILF peace deal, the military and the MILF are now "friendly forces."
The MILF is yet to issue a statement on the incident. (PNA)
Source: Business Diary Philippines