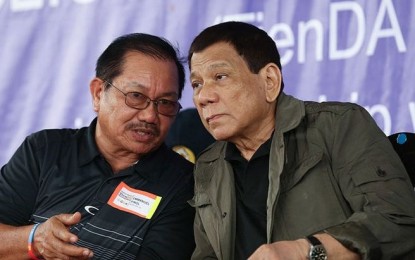 DAVAO CITY – He may have had differences with some Cabinet members but Emmanuel Piñol, a former Secretary of the Department of Agriculture (DA), remembers that the agriculture sector achieved its highest growth within the first year of the Duterte administration.
"For the record, the Philippines achieved its highest growth in agriculture in over half a century in 2017, the first full year of the Duterte presidency, with 3.9 percent followed by a positive 1 percent growth in 2018," Piñol shared in a public post on Saturday.
He noted that the country posted its highest rice harvest in history in 2017 with 19.28 million metric tons (MT), followed by 19.05 MT in 2018.
The fisheries sector, he added, also posted its first positive growth in 2018 and 2019 after decades of negative performance.
"But this was not appreciated by the Cabinet because I oppose their pro-importation policies, especially on rice liberalization. Maybe now, you understand why I chose a smaller agency like the Mindanao Development Authority (MinDA) after I resigned from the Department of Agriculture," Piñol added.
He said he would have wanted to finish his six-year term as MinDA chair until August 2025 and see through the programs that "I personally designed and initiated."
"Honestly, I dreaded the thought of being stereotyped as a politician running for an elective position with eyes twinkling with the peso sign. Good works are overshadowed by propaganda created by groups with vested interests," the senatorial aspirant added.
He said he is seeking a Senate seat to institute reforms to promote and protect the agriculture and fisheries sectors.
"So, even if I knew from the very start that I lack the resources to run a national campaign and I may have a hard time squeezing into the list of 12 senators who most likely would include big-name political personalities, I decided to throw my hat into the arena," Piñol said. (PNA)
Source: Business Diary Philippines