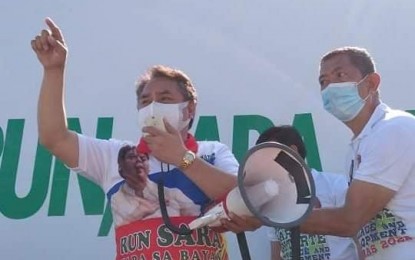 DAVAO CITY – Despite the appeal of Mayor Sara Z. Duterte to his supporters to cancel the planned Nov. 4 - 15 caravan, the Sara All Philippines 2022 convenors pushed through with their scheduled activity.
In a Facebook live video Thursday, Barangay 23-C chairman Alimoden Usman, campaign convenor, said they are heading to the Bangsamoro Autonomous Region in Muslim Mindanao (BARMM) to meet with other supporters in the Cotabato area.
"Joining us in this travel are barangay officials and functionaries, Davao deputy mayors and volunteers from the business sector," he said.
On Tuesday, Mayor Sara appealed to her supporters to cancel their planned Cotabato to Manila caravan from Nov. 4 to 15.
"I am respectfully appealing to the organizers of Sara All Philippines 2022 to forego the planned Cotabato to Manila caravan from November 4 to 15," Duterte said in her official Facebook account.
She also urged them to instead use their money to buy food to feed the hungry and the poor and to conduct other activities that would benefit those who have less in life and the underprivileged.
Duterte reiterated that the caravan was unnecessary because a decision had already been made public as early as Sept. 10 that she is not running for president.
"No retreat, no surrender. Tuloy ang laban para sa tuloy na pagbabago (Our fight for change continues)," Usman said.
He said the caravan is intended for the interest and the good of the Filipinos.
"Our group is voluntarily supporting the campaign without any compensation or financial assistance from the administration. This is our way of showing our full support to Mayor Sara Duterte," Usman added.
Usman and other convenors, who are also members of the Sara All Philippines 2022, had planned to hold caravans in Cotabato City, Bukidnon, and Cagayan de Oro City starting Nov. 4.
The supporters also arranged travels to Manila.
On Nov. 14, the mayor's supporters will convene at the Sofitel Philippine Plaza Manila in Pasay City until the Nov. 15 deadline for the substitution of candidates.
"We are doing this for the country and the Filipinos," Usman said. (PNA)
Source: Business Diary Philippines