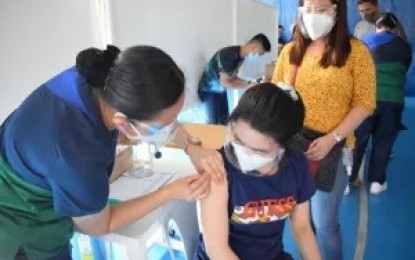 MANILA – The Armed Forces of the Philippines Health Service Command (AFPHSC) has rolled out its coronavirus disease 2019 (Covid-19) vaccination drive for military dependents aged 12 to 17.
"The AFPHSC through the Victoriano Luna Medical Center (VLMC), one of its operating units, opened up its latest Pfizer-BioNTech Covid-19 vaccination roll-out to military dependents aged 12–17 years old," it added in a statement Thursday night.
The vaccination is being held at the AFPHSC Basketball Court, Camp Victoriano K. Luna, V. Luna Avenue, Quezon City, and will run from November 3 to 8.
The VLMC vaccination team is headed by Maj. Vicente Vila II, with Maj. Carrol Mae Asia, as assistant leader.
Minor vaccinees are required to comply with the following requirements as prescribed by the Department of Health:
*Philippine Statistics Authority Birth Certificate;
*ID card of accompanying parent;
*For guardians other than the parents, duly notarized Certificate of Guardianship; and
*Medical Certificate/ Clearance from the Department of Pediatrics, VLMC.
As of Thursday, around 426 vaccinees have received their first dose of the Covid-19 jabs. This number is expected to increase significantly in the succeeding days of the program.
"The AFPHSC stands firm on its commitment as the people's partner in promoting good health through Disease Prevention; Prompt Diagnosis and Treatment; and Rehabilitation in order to provide a five-star health care delivery system that will benefit all military personnel, their direct dependents, and other authorized civilians," it added. (PNA)
Source: Business Diary Philippines