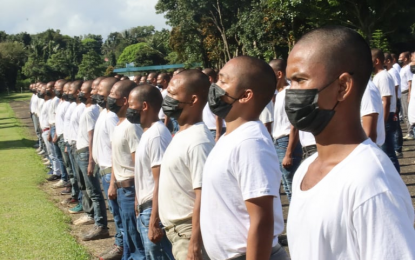 MANILA – Some 166 male applicants, including 57 indigenous peoples (IPs), formally took their oath as they joined the Candidate Soldier Course Class 688-2021 at 2nd Infantry Division (ID) headquarters of the Philippine Army in Camp Capinpin, Tanay Rizal on Monday.
Maj. Kim Evangelista, public affairs officer of 2nd ID, said 2nd ID commander, Maj. Gen. Rowen Tolentino, emphasized the responsibility and commitment as two important aspects of being an Army member during the opening ceremony held at the Camp Capinpin grandstand.
"The General stressed to the new entrants that to become a member of the Philippine Army, one must possess a great sense of responsibility; responsibility for his own thoughts, words and actions. And that this sense of responsibility must be in unison with a great degree of commitment; commitment to the Filipino people, the nation, and to the service," Evangelista said in a statement.
Evangelista said the 166 recruits came from the regions of Calabarzon (Cavite, Laguna, Batangas, Rizal and Quezon) and Mimaropa (Mindoro, Marinduque, Romblon and Palawan).
"Amongst them, 57 came from the indigenous people as a way of giving premium on Republic Act 8371 or commonly known as the Indigenous People's Rights Act of 1997; 75 were former members of the Civilian Armed Forces Geographical Unit Active Auxiliary who has proven their loyalty and already able to render meritorious service to the government, while another 34 were highly skilled individuals," Evangelista said. (PNA)
Source: Business Diary Philippines