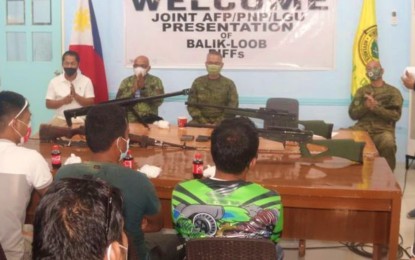 MIDSAYAP, North Cotabato - Military authorities in North Cotabato presented here Tuesday four members of the Bangsamoro Islamic Freedom Fighters (BIFF) who surrendered to the Army's 34th Infantry Battalion (IB).
Colonel Jovencio Gonzales, 602nd Infantry Brigade chief, and Lt. Colonel Edgardo Vilchez Jr., 34th IB commander, presented the four BIFF members to Mayor Romeo Araña during a program held at the 34IB headquarters in Barangay Nabalawag here.
"They belonged to the BIFF Kagui Karialan faction, one of three factions of the BIFF operating in Central Mindanao," Gonzales said.
Vilchez, for his part, said the four surrenderers have turned over a modified M60 sniper rifle, another two modified 7.62 mm sniper rifles, one M14 rifle, and ammunition.
"The turnover of rifles shows the rebels' sincerity in turning their backs on the armed struggle," Vilchez said of the former combatants identified as Sanny Boy Satol Mamalumpong, Ato Menis Sandato, Satol Gamblay Butuan, and Darang T. Katog. who surrendered Monday (November 22) afternoon.
Gonzales has lauded the local government officials and the police for supporting the Army in winning the hearts of the outlawed gunmen.
Araña said the local government will provide the former rebels with livelihood to formalize their return into the mainstream society.
"You have made the right decision in rejoining your families once more," he said.
The four former rebels vowed to convince their companions still out in the fields in Midsayap to avail of the government's offer for them to rebuild their lives as peaceful citizens. (PNA)
Source: Business Diary Philippines