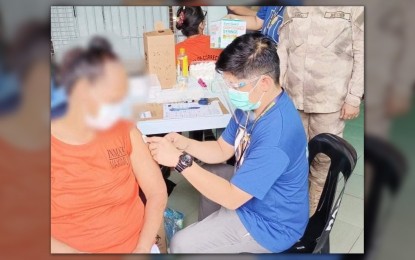 MANILA – The Bureau of Corrections (BuCor) reported Tuesday that more than 35,000 persons deprived of liberty (PDLs), or more than 72.2 percent of the country's inmate population in its penal farms and prison facilities, have received the coronavirus disease 2019 (Covid-19) vaccines.
Based on its data as of November 19, the BuCor said 35,111 out of a total of 45,598 inmates in prisons and penal farms have received the jabs – 25,266 of whom received their first dose while 9,845 have been fully vaccinated.
At the New Bilibid Prison (PDL) in Muntinlupa City, 22,134 PDLs or 78 percent of the 28,516 inmates have been vaccinated, with 1,382 having completed the two doses.
The vaccines were provided by the Muntinlupa City Health Office.
A total of 1,640 out of 1,644 PDLs in the Reception and Diagnostic Center (RDC) had been inoculated before they were transferred to the NBP from jails run by local government units (LGUs).
Meanwhile, 99 percent of PDLs in the NBP's Minimum Security Compound (1,554 out of 1,568 PDLs) and Medium Security Compound (7,955 out of 7,994 PDLs) have received vaccines, mostly first doses.
A total of 10,985 PDLs out of the total of 17,329, or 63 percent of the population at the NBP Maximum Security Compound, have also received initial vaccine doses.
At the Correctional Institution for Women (CIW) in Mandaluyong City, 3,100 out of a total of 3,360 PDLs have been fully vaccinated with jabs from the Mandaluyong City Health Office.
The BuCor also said prisons and penal farms outside the National Capital Region (NCR) have also vaccinated a majority of their population.
At the Davao Prison and Penal Farm in Davao del Norte, 5,034 out of 7,139 PDLs (70.51 percent) have been inoculated, including 2,220 PDLs who have received complete doses.
At the Leyte Regional Prison in Abuyog, Leyte, 822 out of its total 2,163 PDLs (38 percent) have been vaccinated against Covid-19.
Likewise, at the Iwahig Prison and Penal Farm in Puerto Princesa, Palawan, 1,705 out of 2,729 PDLs (62.29 percent) have been vaccinated, along with 1,716 out of 2,304 PDLs (74.48 percent) at the San Ramon Prison and Penal Farm in Talisayin, Zamboanga.
At the Sablayan Prison and Penal Farm in Mindoro Occidental, 600 out of 2,387 (25.14 percent) have been vaccinated.
The doses came from the LGUs where the prisons and penal farms are located.
Justice Secretary Menardo Guevarra earlier said he would seek the inclusion of the remaining unvaccinated prison population for vaccination in the government's National Vaccination Days scheduled from November 29 to December 1. (PNA)
Source: Business Diary Philippines