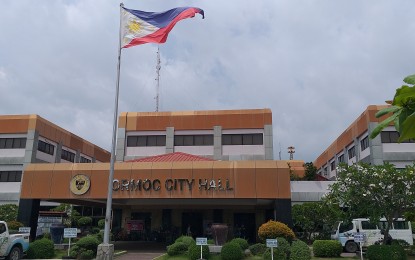 TACLOBAN CITY – At least two city governments in Eastern Visayas have issued an executive order lifting the mandatory use of face shields days before President Rodrigo Duterte's directive.
Catbalogan City, Samar Mayor Dexter Uy said on Wednesday beginning Nov. 8, residents were no longer required to wear face shields when entering business establishments, offices, and in public or open places.
However, the public is still mandated to follow the existing health protocols such as wearing face masks and physical distancing, subject to temperature check when entering an establishment or office, and scanning of quarantine passes.
Violators of minimum health protocols will be fined at least PHP1,000.
The directive also allows business establishment owners to continue their operation if all their employees are fully vaccinated.
The 50 percent limitation on public gatherings can be increased if all participants are fully-vaccinated.
Complete vaccination status is also required for operators and drivers during their renewal of license and franchise of public transport.
In Ormoc City, Mayor Richard Gomez issued a similar directive on Nov. 9 lifting the mandatory use of face shields in closed spaces.
"Wearing of face shield is not required when entering business establishments such as malls, banks but still need to wear face masks and practice physical distancing," Gomez said in a statement.
However, it is still necessary for those riding in enclosed public transport such as transport vans and air-conditioned buses.
The city has also stopped the QR code scanning at its border but still a prerequisite when entering an establishment or office.
Non-vaccinated travelers who will enter the city through Ormoc port should present a negative RT-PCR test issued within 72 hours.
The local government also allows contact sports at 50 percent capacity in indoor settings and 70 percent capacity if outdoor.
"Contact sports participated by Ormoc residents, with prior approval by the village where such games will be held, provided that the same village will supervise and monitor said activities to ensure compliance with health protocols, provided further that all persons who are 18 years of age or above entering the venue should present his/her vaccination card," Gomez added.
The EO also allows the operation of amusement centers or playgrounds or kids playrooms at 50 percent capacity for indoor and 70 percent capacity for outdoor.
The two city government executives issued their directive before the President approved on Nov. 15 the recommendation of the Inter-Agency Task Force for the Management of Emerging Infectious Diseases to lift the mandatory use of face shields in areas under Alert Level 1 to 3.
All the region's six provinces, including Tacloban City, the regional capital are under alert level 2 as Covid-19 cases continue to decline. (PNA)


Source: Business Diary Philippines