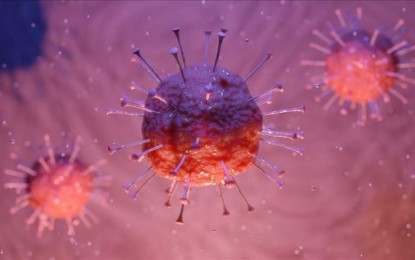 MANILA – The coronavirus disease 2019 (Covid-19) recovery tally has reached 2,740,426 after the Department of Health (DOH) on Saturday logged 1,696 more individuals who recuperated.
In its latest case bulletin as of 4 p.m., the DOH said 1,997 new cases were added to the number of active cases, raising the total to 29,382.
Meanwhile, 238 new fatalities brought to 45,272 the overall death toll.
The confirmed Covid-19 cases since the pandemic started in March last year climbed to 2,815,080, of which one percent are undergoing treatment, 97.3 percent have recuperated, and 1.61 percent died.
The current positivity rate based on the 45,964 individuals tested for SARS-CoV-2 is at 4.5 percent.
The DOH said at least 63.6 percent of the active cases are mild, 5.6 percent are asymptomatic, 4.3 percent are critical, 10.1 percent are severe, and 16.34 percent are moderate.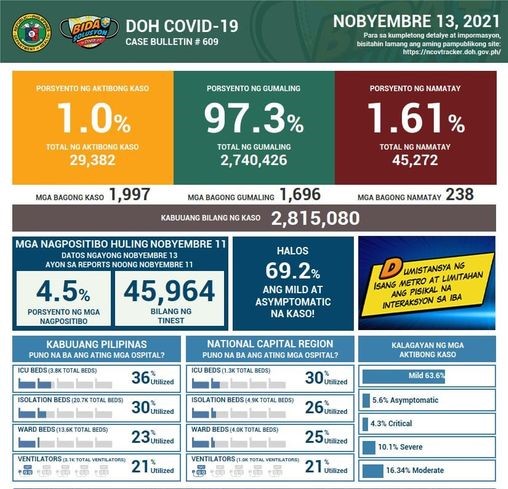 The percentage of intensive care unit (ICU) beds occupied by Covid-19 patients, on the other hand, is at 36 percent.
As of this posting, around 30 percent of 20,700 isolation beds and 23 percent of 13,600 ward beds dedicated for Covid-19 patients are also occupied.
In Metro Manila, in use are 30 percent of the 1,300 ICU beds, 26 percent of the 4,900 isolation beds, and 25 percent of the 4,000 ward beds. (PNA)
Source: Business Diary Philippines