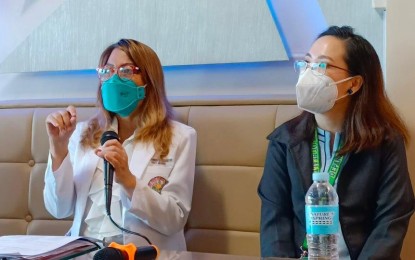 TACLOBAN CITY – At least 1,573 minors will receive Covid-19 vaccines on Friday for the start of vaccination rollout for 12 to 17 years old here.
The inoculation will be at the Tacloban City Hospital, Tacloban City Astrodome, and Schistosomiasis General Hospital in Palo town, city health officer Gloria Fabrigas said in a press briefing on Thursday.
Some 1,400 adolescents will get Covid-19 jabs at the astrodome, 165 at the city hospital, and 168 at the Schistosomiasis Hospital.
To receive vaccines in hospitals are those with illness while those at the Astrodome are adolescents belonging to the general population.
The Department of Health earlier allocated 1,300 doses of Pfizer vaccines for inoculation of minors in the city.
Tacloban has a total of 26,563 adolescent population.
Fabrigas said the adolescent who will be vaccinated are done with their registration through Safe City mobile application. They must be accompanied by their parents or guardian at the vaccination site.
For those with comorbidities, they have to present a medical certificate or medical clearance from their attending physicians.
A form will also be signed before the inoculation and walk-in minors will not be entertained.
"We need screening to check if the minor has allergies that is why we do not accept walk-ins. We have to check the papers presented to us," Fabrigas said.
DOH-Eastern Visayas focal person for adolescent inoculation Kristen Mae Yu said vaccine allocation for minors in the region will depend on the request of the regional office to the central office.
"The DOH (main office) assures everyone that there will be enough Pfizer and Moderna vaccines in Region 8 and just like what we are saying before, all vaccines are effective," Yu added.
She added that parents should not be worried and trust the vaccines because they are properly tested and safe.
In a press briefing, Mayor Alfred Romualdez urged parents to let their children receive vaccines.
"We have a lot of vaccine supplies now. I am appealing and encouraging everyone to get vaccinated," he said.
"We are being prioritized but if these vaccines are not used before the expiration date, this will be given to other local government," Romualdez added.
As of Nov. 3, the city has already recorded 6,012 Covid-19 cases, including 5,766 recoveries, 109 active cases, and 137 deaths. (PNA)


Source: Business Diary Philippines